Most of the time, spring is an absolutely wonderful season. The snow is melting, plants are growing and the days are getting longer. After a long and cold Canadian winter, what more could anyone ask for?
This winter was unusually long and unusually cold here in Saskatchewan, with an unusually high amount of snow. And as a result, spring isn't quite the wonderful season it usually is here in my little hometown in the valley. The Qu'Appelle River, which runs through our town, has swelled to the point that the town has declared a State of Emergency. Today, after an unexpected six inches of snow and a new peak water flow estimation from the Watershed Authority, the bridge on the main street, which is also the primary route in and out of Lumsden, was closed down and a temporary dike was constructed along both sides of the bridge with dirt and sandbags.
Lumsden last flooded in 1974 and it was severe enough that the year is spoken of with reverence to this day. After that year, a reinforced dike was constructed. And for the first time in my memory, that higher embankment has proven necessary.
Entering and exiting Lumsden has become somewhat more difficult, though not impossible. But what has really surprised me is how much more isolated I feel now that the bridge has been blocked off. We are lucky enough to be on the same side of the river as the restaurants, the post office, the grocery store…everything except the gas station, really. But even so, the idea that a piece of my town is just out of reach, inaccessible to me, really tugs at my heart a bit.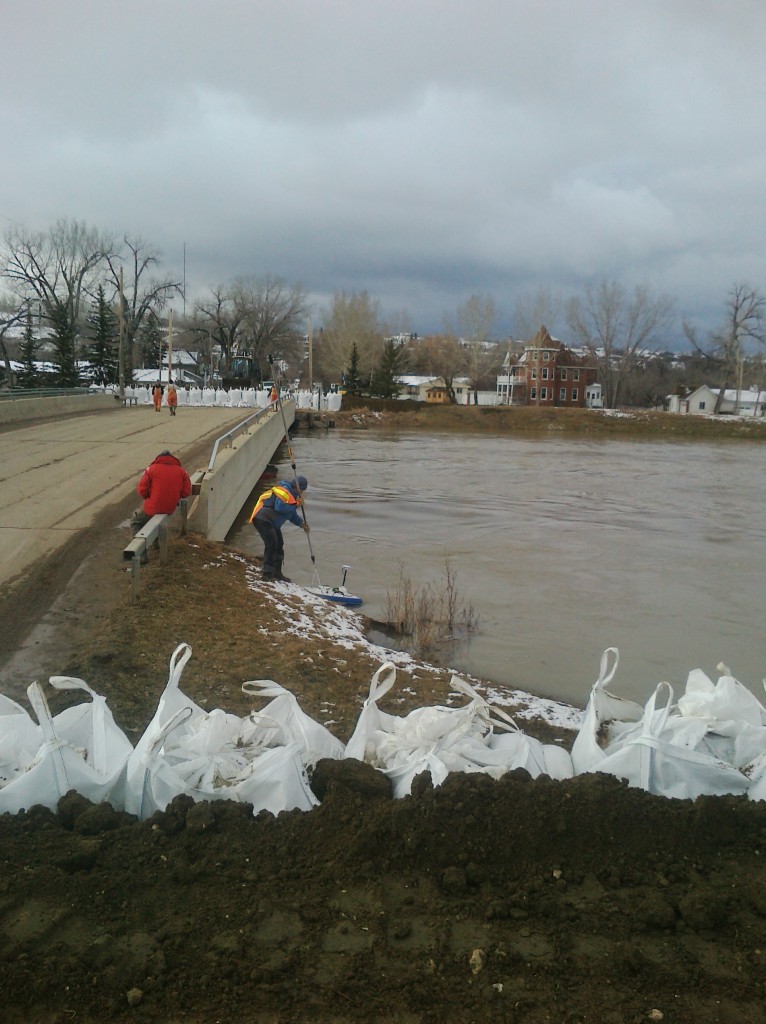 I don't think that flooding will become a problem, mostly because the mayor and the municipality have shown such incredible foresight and because such intelligent preparations have been made. But I do think the blocking of James Street will prove to have been necessary; the water was just inches from the lowest point of the bridge this afternoon.
Life is always an adventure and Mother Nature always has something up her sleeve. Fortunately, us humans have proved to be incredibly tenacious in the face of adversity. Wish us all luck here in our little waterlogged valley!