Holiday Gift for Kids
If you've got an energetic kid in the house, you know how often outdoor play can suddenly begin indoors. Every mother has had to say it. "Don't kick that ball in the house!" But thanks to 3D Light FX, instead of telling your kids to stop, you can give them a great visual reminder!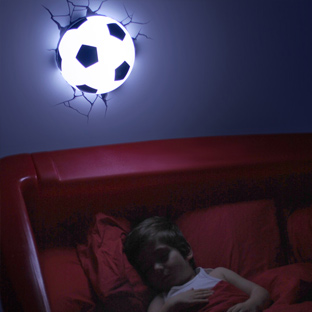 The 3D Light FX 3D Soccer Deco Light is an ingenious nightlight that is shaped like half of a soccer ball and runs on three AA batteries. When it is mounted on a wall (with or without the help of the included artificial crack sticker), the result is an optical illusion of a soccer ball that has been kicked right into the wall!
My oldest son already has a nightlight and my youngest son is a big fan of all the different sports, so we decided to put the nightlight in the room we are currently arranging for Benjamin. He doesn't sleep there quite yet, so we tested the nightlight out just for fun. It gives a nice mellow glow that adds a bit of light to the room without making it too bright for sleeping. But even though the nightlight feature wasn't used much, both of our boys were blown away by the ball on the wall!
Benjamin's room is currently a playroom for the kids and it was so much fun to see how intrigued they were by the ball, especially with the very realistic looking "cracks" that radiated out from it. The effect was created with an included wall sticker and really completed the illusion that the ball had been kicked right into the wall.
The 3D Soccer Deco Light can be purchased at Walmart Canada and is also available online at the 3D Light FX website. It would be a great gift for a sports fan, a soccer player or any child or adult with a love of fun and quirky special effects. Check it out for yourself and light up the night with an optical illusion the whole family will love!
ARV: $19.97
Disclaimer: The product/s mentioned above were provided free of charge from the company or PR firm in exchange for being featured on Mommy Kat and Kids. Opinions expressed belong to Mommy Kat and Kids and are NOT influenced in any way. Please view full Terms of Use and Policies