Holiday Gift for People with Food Allergies
The holiday can be a tough time of year for somebody with allergies or Celiac Disease. When everyone else is digging into scrumptious holiday cookies and cakes, those with allergies are often left sitting at the sidelines looking longingly at an array of forbidden treats. Enter Lucy's, a line of gluten free, allergy friendly cookies that let everyone enjoy a tasty treat during the holidays!
Lucy's offers seven varieties of delicious gluten free cookies. All of the cookies are also free of peanuts, tree nuts, milk and eggs. Made in a dedicated bakery with all natural ingredients, these scruptious cookies aren't just for those with allergies! They're a great choice for any mother that wants to give her child a more natural and healthy cookie treat!
I received the Ginger Snap, Chocolate and Maple Bliss varieties to test out and I absolutely loved the rich flavour of these cookies. Because of their low-allergy recipe, they have a very crisp texture with an addictive crunch. My son loved taking a few of the crisp cookies for a lunchtime treat and I really enjoyed them with a cup of coffee or tea. My personal favourite cookie was definitely the Maple Bliss; like a true Canadian woman, I adore the flavour of maple!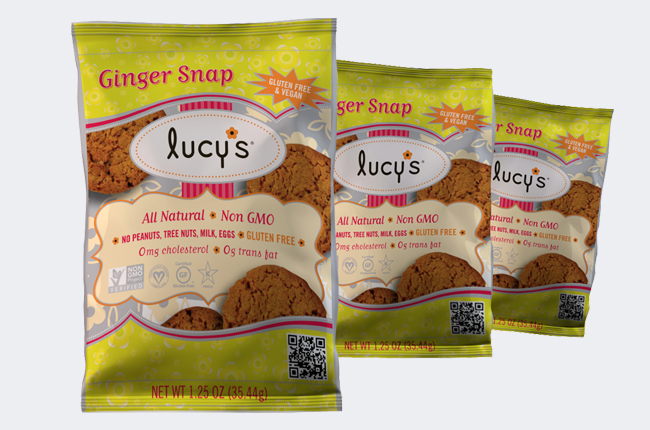 Lucy's cookies are available in over 7000 stores across the United States and Canada and can also be purchased online at select retailers. They're the perfect choice for anyone with food allergies this Christmas; in fact, I have three boxes stashed away for my four-year-old niece, who is allergic to wheat and nuts. With a little planning, the holidays don't have to be hard for someone with allergies, so check out Lucy's for yourself and help make sure that even those with food sensitivities can have a very merry Christmas!
ARV: $4.99
Disclaimer: The product/s mentioned above were provided free of charge from the company or PR firm in exchange for being featured on Mommy Kat and Kids. Opinions expressed belong to Mommy Kat and Kids and are NOT influenced in any way. Please view full Terms of Use and Policies