Holiday Gift for Kids
One of the things that I love about outerwear today is that it's fun! I never liked wearing a toque or mittens very much when I was a child, but when the toque or mittens feature cute animals and kid-friendly colours, who could say no? Sozo Canada offers some of the most adorable animal-themed outerwear I have ever come across and there's not a child in the world that wouldn't be excited to put on this gear!
I received the Bull Dog Sherpa Hat and the Bull Dog Mittens in a size medium (7-14 years) to review. Zackary was so excited to see the cheerful puppy on the hat and was even more delighted when he noticed the matching ones on each of the gloves. He wore both items to school the very next day.
The Bull Dog Sherpa Hat was my favourite item and my son seemed to really enjoy it as well. At first it seemed a little small for his five-year-old head, but I think that was just because the pom-poms on the side looked like they should be down lower at first. It's not exactly like the one pictured here; rather than a velcro chin strap there are two pom-poms hanging down on each side. They were actually a very clever way of keeping the toque over my son's ears without it having to be tied under his chin like a baby's hat. And I loved that the lined faux fur kept his head so warm!
He loved his gloves just as much and while I was a little worried about him going to school with gloves that weren't waterproof, he didn't seem to mind at all. He honestly prefers knitted mittens and the Sozo Canada Bull Dog gloves are nice and long so that his arms stay covered. The tight knit of the gloves keeps his fingers warm and best of all, he loves the gloves and is always excited to put them on! Once or twice he has had to wear another pair of gloves when his Sozo Canada gloves are wet and he just isn't happy again until they're back on his hands!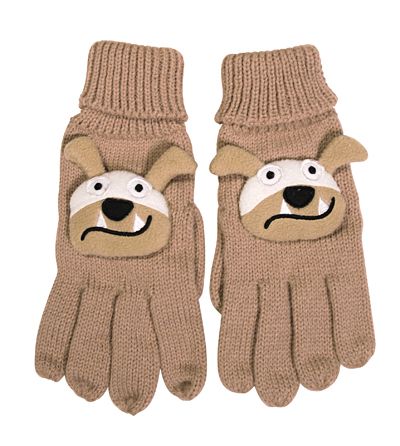 Sozo Canada offers other great outerwear to keep your precious bundles of joy toasty this holiday season in tons of fun styles ranging from dinosaurs to cats to birds. There's even a sock monkey hat and mittens! Sozo Canada products can be purchased by visiting www.dogree.com. Or email [email protected] for information about retailers near you. And don't forget to check out the Sozo Canada Facebook page for all the latest information about the brand! So check out the styles for yourself and give your child a clothing gift that they'll actually be excited to wear with some help from Sozo Canada!
ARV: $25
Disclaimer: The product/s mentioned above were provided free of charge from the company or PR firm in exchange for being featured on Mommy Kat and Kids. Opinions expressed belong to Mommy Kat and Kids and are NOT influenced in any way. Please view full Terms of Use and Policies