In just three weeks, Western Canada will be holding its very first blog conference, BlogWest 2012, in Edmonton, Alberta. And I will be right there with over 200 bloggers from Alberta, Saskatchewan, Manitoba and the rest of Canada for three days of learning, networking and fun in one of Canada's most high-energy cities, thanks to my amazing sponsor Skinfix!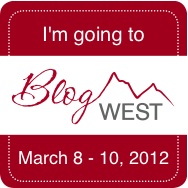 I fell in love with SkinFix products before I even started Mommy Kat and Kids. I received a sample of Skinfix Diaper Rash Paste at a Welcome Wagon baby shower event and when Benjamin developed an absolutely horrible diaper rash when he was about three months old, the diaper rash paste cleared it up almost instantly. I honestly couldn't believe how fast and effective it was and my love of Skinfix was born. Needless to say, I am just thrilled that I have been given the chance to spread my love of this great company with my readers and with other Western Canadian bloggers!
I am very excited for this fabulous conference and I am already planning my schedule for the event. I can't wait to meet some of the other bloggers in Western Canada, learn about new ways to improve my blog and connect with amazing sponsors. I've even been given the opportunity to speak on the Monetization Panel led by the fabulous Melissa Vroon!
I will be sharing my experience with all of you thanks to Skinfix and I'll also have some amazing samples and giveaways of Skinfix products during the conference, so if you're attending, be sure to find me to get a little SkinFix swag for yourself! And keep your eye on the #Skinfix and #BlogWest hashtags; I'll be Tweeting out info about how you can get your hands on some sweet Skinfix merchandise!
In the meantime, I would love it if my amazing readers could show Skinfix some love by following @Skinfix on Twitter! They really deserve it; their products are phenomenal!