I've never been much for jewelry, but the big necklaces are in style now so I've been trying to follow the trends. Unfortunately, my son Chase thinks every necklace I've bought is his own personal plaything. He'll slime them up, scratch at my neck and break them trying to play with them. And like any other baby, when I don't let him play with something he believes he's entitled to, he'll cry and make momma feel like a bad guy.
Teethease has a great solution; a fashionable Pendant Necklace which is really a teething ring in disguise. They come in a variety of colours and have been designed to follow modern fashion trends, so you can wear it out and still look great!
When I first got the necklace I didn't think it would be much use right away as Chase isn't quite teething yet, but it looked so great I wore it out for lunch that day. My baby boy loved it! More than my other jewelry even, he seemed to know it was for him. He had a surgery to repair a cleft lip at the beginning of April and he wasn't allowed to eat past midnight the day of the operation. I was nervous about how he would get through the morning without feeding, but I wore my Teethease necklace and he was content all morning just chewing and playing with it (a huge relief for an already stressed out mom).
Teethease was also wonderful for feeding time. Whether I'm nursing or my baby is getting a bottle, he likes to scratch. It's pretty normal for me to have scratches on my neck and chest from those sharp baby nails (no matter how often I cut them, it seems). Wearing my necklace during feeding time gives Chase something to play with aside from me, which is nice for both of us!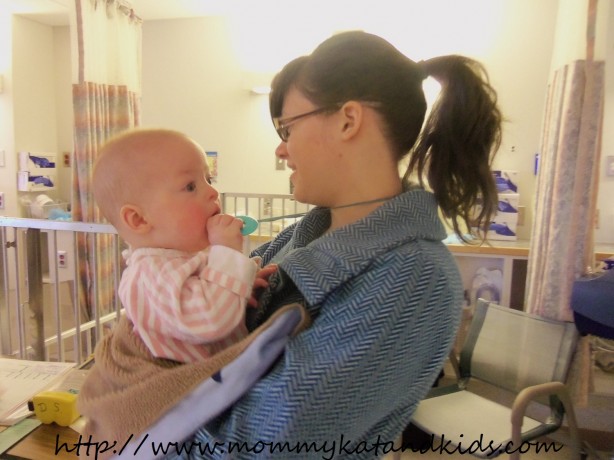 Best of all, the Teethease Pendant Necklace is made from completely safe, FDA-approved, medical grade silicone and is free of BPA, PVC, latex, heavy metals and phthalates. It meets the highest international safety standards, including a break-away clasp, and a smooth, dishwasher-safe surface that makes it easy for cleaning. If you have a teething baby or are even just looking for jewelry that you can wear without worrying about your baby damaging it, take a look at the selection of necklaces from Teethease. You and your baby will both be glad you did!