When we head out on our yearly camping trip or any other vacations, we usually have a little collection of important valuables that comes with us. From our wallets and phones to our money and watches, these things may not take up much space but they're important and when we're travelling, it's hard to keep them as protected as we would like.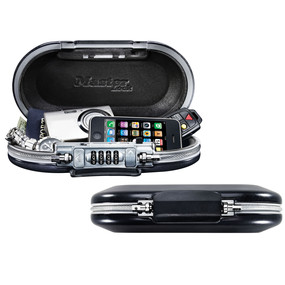 So when my first task as a member of the Master Lock Live Secure Safety Squad was to review the Master Lock 5900D SafeSpace I was thrilled. This clever portable case had a padded interior suitable for delicate objects and looked like a great way to keep important items extra secure when out of the house.
The case is about the size of a tissue box and features a four-number combination lock and a securing cable. I simply filled the case with our valuables, closed it, wrapped the cable around a stationary item and then locked the end of the cable back into place on the case. I loved the fact that the Master Lock SafeSpace didn't just keep items secured in a box but kept the box itself secure too! And as an added bonus, the cord doubled as a carrying handle when I needed to carry the case around. It almost looked like a cute little purse!
The Master Lock SafeSpace is water resistant, lined with shock absorbing foam and even has an access port for an ear bud or charging cable, making it perfect for everything from long vacations to day trips around the community. What better accessory could a family have for their summer adventures?
Master Lock wants to help make your summer a little more secure so the company is very generously offering one lucky Mommy Kat and Kids reader their very own Master Lock SafeSpace 5900D Portable Safe, a $27 value! To enter to win, just leave a blog comment about how you keep your favourite possessions secure when you're on vacation. And make sure to check out the Master Lock Facebook page for information about the newest Master Lock products, safety tips, special giveaways and much more!
Ideally, our family won't have to deal with losing any of our possessions this summer but it never hurts to take a little extra care with our favourite electronics, cards and money. If you have lots of summer activities out of the house in the upcoming months, check out this easy-to-use portable safe for yourself and enjoy peace of mind no matter where you are!
a Rafflecopter giveaway