As far as I'm concerned, my days of having babies are over. But that doesn't mean I still don't swoon over all the adorable baby products available for a family's precious little bundle of joy! And that's why I was delighted when I was given the chance to participate in a fabulous Online Baby Bash! Over the next two weeks, in addition to Mommy Kat and Kids' regular content, look for great group giveaways of amazing prizes that any mom of a baby would love.
The first sponsor in this fun online event is The Children's Place. I don't think there's a parent in North America that doesn't love shopping at The Children's Place. A huge variety of gorgeous children's clothing to suit any style…who could resist that? And now there's even more to love because The Children's Place has recently expanded its line of infant clothing so that your precious new bundle of joy can be as stylish as you!
My personal favourite in the new line is this too-cute football outfit. With the CFL season heating up and my "Rider Pride" in full force, I would absolutely love to have a baby to dress up in this outfit. Seriously, how adorable are those little matching socks?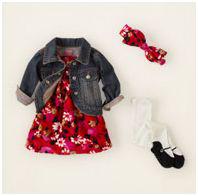 And for the precious new princess in your family, there are outfits like this pretty dress and jean jacket combo, perfect for fall fun. I love the way the baby tights are printed like Mary Jane shoes at the bottom!
The Children's Place has very generously contributed a $500 gift card to the Online Baby Bash so that you can enjoy a sensational shopping spree that will have your little one looking their best. The giveaway is open to US and Canada, so enter below and don't forget to check out some of these great new fashions from The Children's Place and see which ones you like best!
A huge thanks to Kidsumers for organizing this giveaway and the Online Baby Bash event!
a Rafflecopter giveaway