Almost every family has a colourful board book featuring the alphabet to help children learn that A is for Apple and B is for Bear. But what about a book that breaks out of that mould with an enchanting song for each letter? A book where M is for Marmot, I is for Imagine and W…is for Wapiti?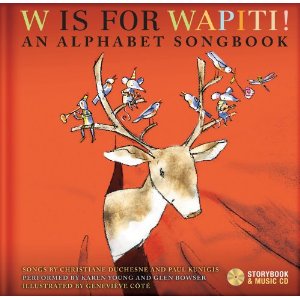 Having seen my fair share of alphabet books in my lifetime, I was delighted by the originality of W is for Wapiti: An Alphabet Songbook, the newest storybook and CD release from The Secret Mountain. With songs for each letter of the alphabet and bright, engaging pictures, it was the type of book designed to really engage a child instead of just being an endless repetition of letters and objects.
The songs had such a unique style and I especially liked some of the humour-based songs. In fact, the very first song, Aha Aha! Did You Do That? was one that kids and parents everywhere will be able to relate to. With a stern authority figure wondering who was being mischievous in the house and innocent-eyed children declaring that it certainly wasn't them, it was like a song right out of our family's home. (Though fortunately I've never had to deal with anyone putting a toad on my pie a la mode!)
My boys enjoyed W is for Wapiti: An Alphabet Songbook as much as I did but they actually preferred to read the book and listen to the CD separately most of the time. They liked dancing along to the songs but when they sat down to read, they preferred having me read them the excerpts from the songs out loud while they looked at the imaginative pictures in the book.
The Secret Mountain wants to give your children the chance to learn about the alphabet with this beautiful storybook and musical CD too, so the company is very generously offering three lucky Mommy Kat and Kids readers their own W is for Wapiti: An Alphabet Songbook Book and CD Set! To enter to win, just visit The Secret Mountain website and leave a blog comment about another book that you find interesting.
I love original, innovative books like this one; they really take the age-old concept of learning the letters of the alphabet to a fun new level and even my oldest, who is reading on his own, enjoyed the fun verses and pictures in this alphabet book. If you want to let your children learn in way that goes beyond apples and bears, check out W is for Wapiti: An Alphabet Songbook and use music, pictures and original concepts to inspire a love of reading!
a Rafflecopter giveaway