It might seem a little early to start thinking about Christmas, but it's really only a few months until the snow will be falling, the coloured lights will be twinkling and everyone will be searching for that perfect present.
And for the child that wants something cute, cuddly and adorably useful, Company Kids, a division of The Company Store, has just the right gift: its brand new Pillowcase Friends! These adorable pillow cases feature a stuffed upper portion and a fun animal shape so that when the case is placed on a pillow, it's transformed into a fun plush animal that children can cuddle during the day and use for resting their heads when bedtime rolls around.
We received the Pillowcase Friend Monkey to review and my boys were so excited when they pulled the friendly fellow out of his package. The pillowcase has padding at the top to form the monkey's head and arms. The pillow, when placed inside the pillowcase, creates the monkey's body. It was such a fun way to make Benjamin's pillow special and looked just great!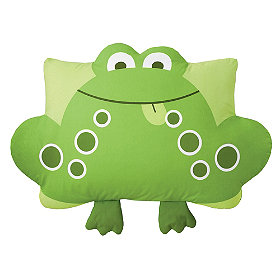 Company Kids carries tons of other fabulous gifts for kids including luxurious bedding, toys, comfy pyjamas and much, much more. It's a great place to find gifts for all the little ones on your shopping list and most of the items the store carries are not just fun, but useful too! And with physical stores, phone ordering or online shopping options available, you can do your shopping in whichever way is most convenient for you.
My boys are both huge fans of the Company Kids Pillowcase Friends Monkey that we received and they will often take it out of the bedroom so that it can join in their games during the day. The case is such a unique way of turning a pillow into something kid-friendly! If you're looking for fun and original décor items for your children, take a look at the Pillowcase Friends and other great items from Company Kids and make your child's room as inviting as it can be!