When my sister asked me if I would like to review a cardboard playhouse, I was just so used to receiving girly items that I was expecting some type of doll house.  Imagine my surprise when a huge box picturing a child-sized cardboard house called My Pretty Playhouse arrived at my door courtesy of Cascades.  It looked huge and once my husband had finished assembling it, I realized it was going to take up a large chunk of our family room for the next several weeks.
The playhouse is made of 100% recycled cardboard, which is sure to please all the green enthusiasts of our generation.  I was a little afraid of the assembly as I always am, but my husband had it put together in no time.  The cardboard panels have holes and grooves that fit together quite perfectly so that you don't need any tape or other additional materials to get it together.  My Pretty Playhouse even has a beautiful cottage look with French doors and rock patterns on the exterior that helped get my children inspired to start colouring the outside.
Even though there are some patterns already existing on the house, there is also a lot of open space for kids to draw, colour or paint whatever pictures or designs they want.  My kids go through a lot of paper with all of their colouring and painting so this recycled cardboard house provided them with a great canvas that was big enough to last for weeks' worth of art activities.
But more than just a canvas for creativity, My Pretty Playhouse is also an awesome playhouse!  I've even been in there a few times myself.  There is enough room for both of my daughters and me to sit inside and have a little tea party. Isabelle, my two-year-old, uses it as a detention centre for her toys when they are 'naughty' and Anna likes to take a pillow and blanket inside to make a bed and live in there like it is her very own home.  The girls even rigged up a plastic bead necklace at the front door to act as a doorbell.  We have had the playhouse for weeks and subjected it to a great deal of art work and child's play but it is still sitting sturdily in our living room, none the worse for wear.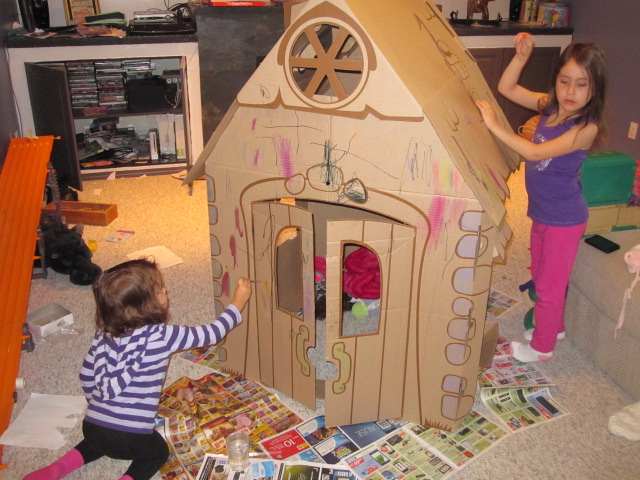 It may take up a lot of room in our toy area but My Pretty Playhouse has provided more than enough entertainment to earn its space in our home.  And because it has been so durable, I think the only way that we will ever get rid of it will be for my husband and I to sneak it out of the house one night when no children are lurking. Whenever we are ready to reclaim our family room it is wonderful to know that the whole thing can go back into the cycle of recycling.
The My Pretty Playhouse and an assortment of other recycled paper products are available to purchase from Boutique Cascades and retails for just $38. If you feel like surprising your kids with a playhouse without spending a ton, a cardboard playhouse may be just the thing.  I also think it would make a fun birthday activity for a bunch of girls while you may be busy in the kitchen.  In any case, the My Pretty Playhouse was certainly a lot of fun for our family and I think any child would be happy to have one!