Even though I am a work-at-home mom, my boys and I spend a lot of time on the go. From walking back and forth to school to attending special events in Regina, we're out and about a lot. And when we're going to be doing a lot of walking, Benjamin usually spends at least some of the time in a stroller.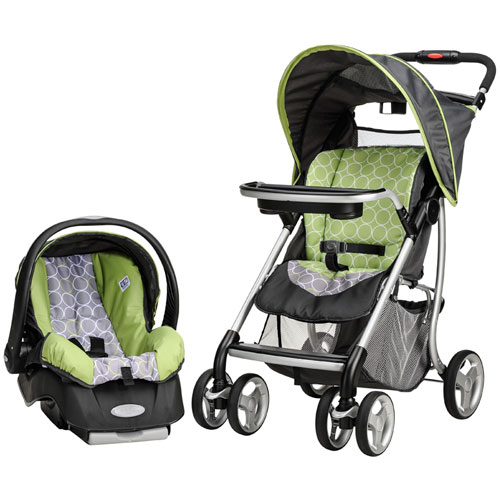 But lugging that stroller around from place to place is a huge pain and when the boys were younger and in infant car seats, I had the same issue with the hefty seats. While the handle was supposed to make the infant seat easy to carry, it was so heavy that I found it cumbersome and tiring to move from place to place. That's why the new Evenflo JourneyLite Embrace Travel System sounded like such an amazing choice for me. This system is designed to provide exceptional safety and comfort for children without weighing Mom down!
We tried out the stroller first and I absolutely loved how its lightweight design made it so much more portable. In the past it had been a bit of a chore to pack up our large heavy stroller when heading to Regina to run errands or see a show. Packing up the JourneyLite stroller took no time at all and it was quick and easy to set up and manoeuvre once we reached our destination. Designed for children weighing up to forty pounds, it's the only stroller you'll ever need and so much more convenient for a busy mom than its heavier counterparts. But with features like a full-sized canopy, a large bottom storage bin, a parent console with drink holder and a snack tray for baby, it still had all the features that I want in a stroller too.
The Embrace Infant Car Seat that comes with the system is designed for children between five and thirty-five pounds and is so much nicer to carry than the car seats my boys had used in their infancy. I especially appreciated the fact that the seat came with a base so that taking the seat in and out of the vehicle was quick and easy. But thanks to the belt guides on the seat, it can be used without the base as well!
While my boys are both in booster seats now and we couldn't test out the car seat itself, I could tell just from examining it and installing it in the car that it would be an incredibly convenient choice for any parent. And with structural integrity that has been tested to withstand about twice the federal crash test standard and superior side impact testing, it's a safe choice too!
Overall, I was incredibly impressed with the Evenflo JourneyLite Travel System not just because it had all the features that I look for in a travel system but because it provided all those benefits while still being incredibly light and portable. For a busy mom like me, it's the perfect choice. This system is available exclusively at Walmart Canada so if you're a mom that's always on the go, check out the Evenflo JourneyLite Travel System for yourself and see how much easier travelling with your baby can be!