To me, one of the clearest signs of a great company is that it offers products that have been used and loved for generations. My very first toy, bought for me by my mother a month before I was even born, was a Fisher-Price Happy Apple and that toy was passed down through every other child in our family and then on to my oldest son. A toy like that is impressive not just because of its durability, but even more so because it has appeal that has proven itself to be timeless.
Recently, Fisher-Price has released a list of twelve Fisher-Price Favourites, gear and toys that have withstood the test of time with proven universal appeal, and as soon as I looked through the list, I could see why the items had been chosen. Take the Discover 'n Grow Jumparoo, for instance. My first experience with this activity-filled bouncing chair was when my oldest son was less than a year old. I comment often on the high energy levels of my boys and that was true even when they were infants. Zackary absolutely adored his Jumparoo and would bounce in it so energetically that sometimes I expected to see it leave the ground! In fact, he loved it so much that I sometimes let him eat his meals in it to keep him happy.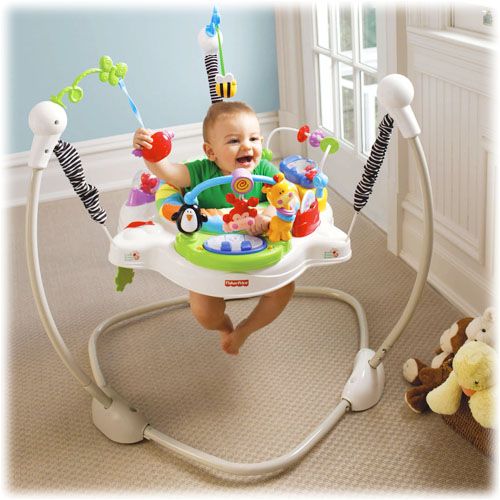 The Little People Animal Sounds Farm is another prime example of a Fisher-Price product that generations of kids have loved. I am a huge fan of storytelling through play and when Zackary first started learning about farm animals, we used to spend hours lying on the floor with the pig, horse, cow, sheep, chicken and farmer in the set making up stories about their adventures on the farm. But the best part was that years later, when Benjamin started showing an interest in the animals, Zackary played the same types of games with him. I used to love just sitting on the couch listening to the stories that the two of them created; they were always so much more imaginative than the stories I would have invented!
The full list of Fisher-Price favourites includes both of these toys that have been used and loved by my boys and ten other fabulous items for infants and toddlers:
Ocean Wonders Aquarium
My Little Snugabunny Cradle N Swing
Infant to Toddler Rocker
SpaceSaver High Chair
Discover 'n Grow Jumperoo
Brilliant Basics Rock a Stack
Laugh & Learn Love to Play Puppy
Laugh & Learn Say Please Tea Set
Laugh & Learn Click 'n Learn Remote
Brilliant Basics Stroll-Along Walker
Little People Wheelies Stand 'n Play Rampway
Little People Animal Sounds Farm
So what makes these toys and baby gear items so special? Just like that Happy Apple I had so many years ago, they have appealed to children for generations, they are beloved go-to products for parents and they support child development and encourage infants and toddlers to achieve those memorable milestones. Want to learn more about the Fisher-Price Favourites? Make sure to check out the special Fisher-Price Favourites website to learn more about what makes these toys so special!
And if you have a little one that's just at the right stage for one of these beloved toys, you're in luck! Until April 30, you can save 20% off any of the Fisher-Price Favourites at Toys "R" Us with the exclusive coupon code FISHERPRICE20. Just visit the Toys "R" Us website to use this exclusive PIN code and save!
So check out all the Fisher-Price Favourites and see which ones you remember from your own childhood or which new innovations you're longing to test out! You'll love this collection of must-have baby and toddler gear and toys that have been loved by families around the world for generations!
Disclosure: I am part of the Fisher-Price Blogger Campaign with Mom Central Canada and I receive special perks as part of my affiliation with this group. The opinions on this blog are my own.