If there's one thing I love about Tim Hortons, it's the way that the company is always switching up its menu to provide new taste sensations for Canadians. In August, Tim Hortons introduced the Extreme Italian Sandwich for a limited time. Canadians loved it and so now the sandwich is back for good as a permanent lunch menu item! This sandwich combined robust Italian flavours including ham capicollo, genoa salami, pepperoni, mozzarella and sundried tomato sauce, served on a Parmesan and herb bun. I recently received a Tim Hortons gift card and some fun Italian goodies so that I could take my boys to check out the sandwich and see what we all thought.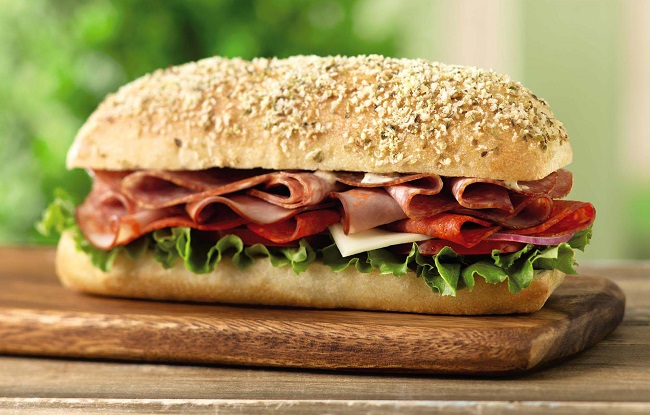 Now I have to admit that I'm not a big fan of deli meat, but my boys both love it and happily agreed to taste-test the meat-packed sandwiches for me. I wasn't sure what they'd think of the sundried tomato sauce since they tend to prefer quite simple food and both have a tendency to be picky. But to my delight, they devoured their sandwiches and told me that the meal was delicious. I was excited to see that these sandwiches were a hit with my meat-loving boys!
Want a chance to review the Tim Hortons Extreme Italian Sandwich and see what you think? Tim Hortons wants your feedback on its newest menu addition, and so the company is very generously offering ten lucky Mommy Kat and Kids readers a $10 Tim Hortons gift card to test out the Extreme Italian Sandwich. Email me your review within 10 days of receiving the gift card and you'll be entered to win a $25 Tim Hortons gift card too!
This sandwich might not be my top choice for lunch, but my boys certainly loved it and the best thing about Tim Hortons is that there are options for every taste! While Zackary and Benjamin chow down on an Extreme Italian Sandwich, I can enjoy a Tuscan Chicken Panini and my beloved double-double coffee. If you love flavourful meat and robust Italian flavours, this is one sandwich you'll want to try to see if it's a hit in your household!
a Rafflecopter giveaway