Being a hockey mom is not for the faint of heart. It takes a lot of dedication, sacrifice and time to have a child in minor hockey and P&G knows that. A hockey mom is carpool queen, tournament manager, official cheerleader and after-game snack maker all rolled into one. A few of my favourite women are hockey moms and I know from how busy they are just how much commitment it takes. These women often have virtually no time to themselves because every spare minute is spent either getting kids ready to hit the ice or cheering on their youngsters at the rink. That's why P&G wants to help out hockey moms everywhere with some great tips for helping parents survive hockey season with a smile!
Skates are expensive. To save blades from rusting wipe them down after each and every skate but be careful, they're sharp. Try using Bounty Duratowels which are tough enough to wipe them off. For efficiency, keep a roll in hockey bags.
The lingering smell of hockey equipment in the car is only made worse when the heat is turned on high in the winter. To get rid of car odour, try Febreze Car Vent Clip Air Freshener for 30 days of fresh scent.
Runny nose after being in the cold arena? Coffee spill in the car? You'll never have to search for a tissue with Puffs Car Cup – tissues specifically designed to fit in the cup holder of your vehicle.
Jerseys and socks soak up the sweat, snacks, beverages, and worst of all, the odour that comes with being an athlete. To keep their uniform looking bright and smelling fresh, throw them in the washing machine with detergent, specially designed for sportswear. Don't forget to sprinkle in a little love and lasting scent with Downy Unstopables for freshness that releases as kids move!
Wet equipment left in a hockey bag after a game or practice is a breeding ground for odour-causing bacteria. To prevent odour, air out all equipment after every practice and game on a drying rack. After taking the equipment out of the bag, try spraying all equipment (even soles inside the skates) with Febreze Fabric Refresher Extra Strength for long lasting freshness. For a safety net, keep the to-go version in your purse for a burst of freshness anytime.
Whether you're a hockey mom yourself or know one in the community, it's important to celebrate each other for the big and little things moms do that make minor hockey possible. Visit The House that Mom Built website to find out how you can celebrate a fellow mom and make her day with the click of a button! When you do, you'll receive a link to money-saving coupons for your favourite P&G products, and the hockey mom you're celebrating will too!
P&G is also ready to help you be the best hockey mom you can be with a very special giveaway! The company is very generously offering one lucky Mommy Kat and Kids reader a Hockey Mom Survival Kit containing Tide plus Febreze Freshness Sport HE 2.04L Active Fresh Scent, Febreze Fabric Refresher Extra Strength Original Scent 85 mL To Go, Febreze Fabric Refresher Extra Strength Original Scent 500 mL, Febreze Car Vent Clip Air Freshener Linen & Sky 2mL, Bounty DuraTowels White Paper Towels 2 King Rolls 49 Sheets, Downy Unstopables 375g and Puffs Car Cup 32 ply Tissue, a $40 value! To enter to win, just leave a blog comment about which item in this prize pack you would find most useful.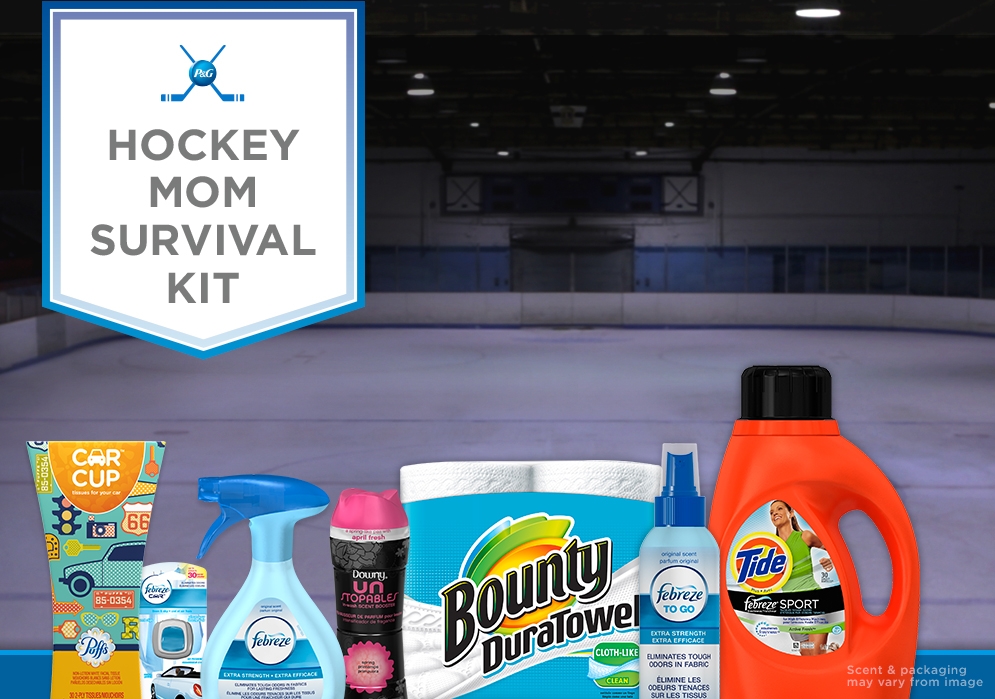 And that's not all! Come join Canadian Hockey Moms blogger Theresa on Twitter this Thursday, March 27, 2014 at 9pm EST for the #hockeymomCA Twitter party! There will be great prizes and plenty of conversation and tips that are sure to come in handy for a hardworking hockey mom!
You can share your admiration for your favourite hockey mom until April 13, 2014, so don't miss out on your chance to visit thehousethatmombuilt.ca, give your favourite hockey mom some recognition and save money on your favourite P&G products all at the same time! It's win-win-win for everyone!
a Rafflecopter giveaway