It goes without saying that as a blogger I have a lot of tech devices. And with two game-loving children, I find I'm often lending those devices to my boys so that they can watch shows or play games online, especially when we're out of the house running errands. Of course, that means that sometimes apps are downloaded without my permission or other content is changed and I don't realize. Once, my youngest son actually downloaded a horoscope app from an ad embedded in a game. I wasn't happy when I saw that $30 charge on my account!
I've learned quite a bit about apps and permissions since that incident but I knew I could still be doing a better job of protecting my device and my privacy online, so I was very excited to test out the ESET Mobile Security app for Android devices. I decided to install the app on my Android tablet as the boys tend to use it more than I do and protecting them online is something I'm very passionate about. After a quick and easy installation, I was ready to test out the app!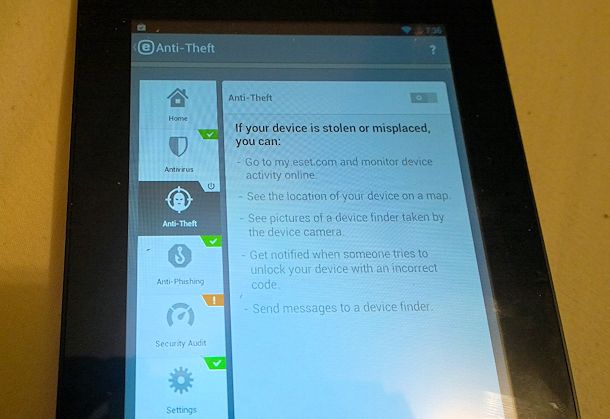 The beauty of ESET Mobile Security is how many different potential threats it covers. First, it provides anti-virus protection when downloading apps onto your device. It also provides anti-phishing protection by blocking potentially harmful links on a device. The clever Security Audit feature analyzes current apps on the device and alerts adults to the permissions and potential threats that each app contains. And the Anti-Theft system lets a device's owner track a stolen device, monitor the device's activity and send messages to a device finder.
Personally, I found the Security Audit to be the most useful feature for our family. Since my boys both love games so much, we have plenty of them on all our Android devices. In fact, I've been known to play a few rounds of Angry Birds myself to unwind some nights! I was surprised to see that eighteen of the apps I had installed could track my location, including three of the game apps my boys use all the time. And a shocking 25 installed apps could read identity information! Luckily though, only five apps used paid services and they were all adult apps only used by me!
While the Security Audit provided me with the most information, the Anti-Phishing program was the setting that let me feel the most secure when giving my boys the tablet. The wonderful thing about the Anti-Phishing and Anti-Virus settings is that they essentially work on their own to protect my boys and my device. It's so nice to know that the program will automatically block harmful links and downloads without my having to do anything! Even better, I can connect up to five devices to the same account so that all my Android phones, tablets and devices are protected!
ESET Mobile Security was recently awarded the PTPA seal of approval and the company is celebrating with a huge discount just for readers! Right now receive one year of Android protection for $4.95 or two years of Android protection for $7.43, a savings of 75% off the regular price! Considering all the benefits the program provides, it just makes sense to ensure that your devices are protected. And as if that wasn't enough, ESET Mobile Security and PTPA are also offering a fabulous giveaway. Enter using the form below for your chance to win an Android tablet with the full version of ESET Mobile Security, a $225 value!
My oldest son is almost at the age of having his own phone and I have to admit that it was a concept that frightened me a little. But now that I've seen for myself how effective ESET Mobile Security is at protecting my son's information and his device, I feel a lot better about the prospect. If you have children that use your devices or that have their own and you're looking for an easy and effective way to ensure online safety, this app is a must. Take advantage of the amazing savings available right now and protect your family and your devices!
Disclosure: I am part of the PTPA Brand Ambassador Program with ESET and I received compensation as part of my affiliation with this group. The opinions on this blog are my own.