When my youngest was a toddler, I started using a video baby monitor and I couldn't believe how much easier it made my life. The monitor synced to my smartphone so that I could check in on my sleeping youngster anytime. And it also provided me with a convenient way of keeping an eye on him when he was awake!
Now, one of my very favourite tech companies, NETGEAR, is taking the concept of video monitoring to new places with the Arlo Smart Home Security Camera, a completely wireless and portable video monitoring system perfect for everything from securing property to supervising children. Recently I received the NETGEAR Arlo VMS3230 System to test out and I couldn't wait to get it hooked up.

The system retails for $349.99 and comes with the base and two wire-free, HD-quality Arlo security cameras. Since there are no wires, these cameras, which are about the size of a lemon, can quite literally go almost anywhere.
The set also includes four bases that can be mounted where desired with the included hardware. The cameras then attach to the bases using powerful magnets, though they can also simply be placed on top of a flat surface. The cameras are even waterproof and designed to withstand extreme weather conditions, so there's no need to worry about placing them outside!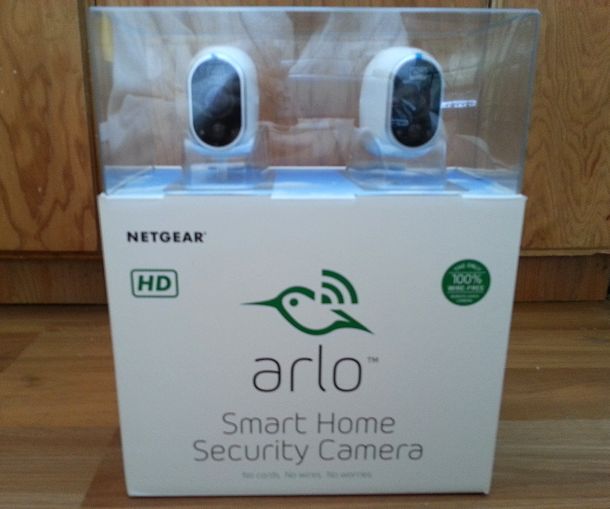 I decided I wanted one Arlo security camera in the downstairs living room, since my boys spend most of their time playing there when I'm working, and one outside monitoring the front yard. My bike was stolen from the front yard last year and I don't want the same thing to happen again!
The base screwed on easily and then I just had to pop the camera into place. After that it was simply a matter of plugging the base into my router, downloading the Arlo app and syncing the camera to the base by holding it nearby and pressing the sync button.
Arlo cameras are equipped with night vision, which makes them perfect for monitoring outdoor property…and keeping our bicycles safe! And with handy motion alerts, the Arlo security camera will start recording and send me an alert only when motion is detected so that I don't waste the camera's battery.
Knowing if someone is moving around in front of my house at night doesn't have to mean constant recording. Instead I just choose the settings and alerts I want using the Arlo mobile app!
So far I've loved having the Arlo security cameras to help monitor my house. But what I love most of all about them is the fact that I can move them wherever I want, whenever I want in just seconds. I can keep an eye on a sleeping baby when looking after my brother or sister's little ones. I can monitor the front and back yard when my family is away on vacation. The possibilities are endless!
And while two cameras have been more than enough for my household so far, the Arlo system can support up to fifteen cameras on one system and users can view up to four cameras at once! I love the idea of being able to properly monitor an entire large household and property with just one convenient camera system.
And there's no need to worry if you have a large property. An Arlo security camera can communicate with the base at a range of up to 300 feet, and the cell batteries powering the cameras are rated for up to six months of use!
I already love NETGEAR routers and WiFi extenders for their speed, ease of use and high performance. Now NETGEAR has incorporated all those features into the Arlo camera system to provide a convenient surveillance video option for families, business owners and anyone else with a desire to monitor their property. The peace of mind this versatile system provides makes it worth every penny!