It's no secret how much I love coffee. I love a simple cup of regular coffee with cream, a fancy latte or cappuccino as a treat, a mocha when I'm in the mood for something sweet…if there's a drink with coffee involved in any way, I'm a fan. But I'm the only one in the house that really drinks it, so using a full-sized coffee maker on an everyday basis just doesn't make sense. That's why single-serve coffeemakers have been a favourite in this house for years.
The very first single-serve coffee machine I ever owned was a TASSIMO, and I absolutely loved it. I only stopped using it because I accidentally melted its cord when it was too close to the stove and never got around to replacing it. In the years that followed, I tried plenty of other single-serve coffee machines and I enjoyed them all. But I still remember how much I loved that very first TASSIMO machine.
So when I had the chance to receive and review this year's ultimate Christmas gift for coffee lovers, the TASSIMO T47 brewer, it was a dream come true! Before the machine even arrived, I was online shopping for all my favourite varieties of TASSIMO T DISCs so that I could whip up some tasty beverages as soon as it arrived.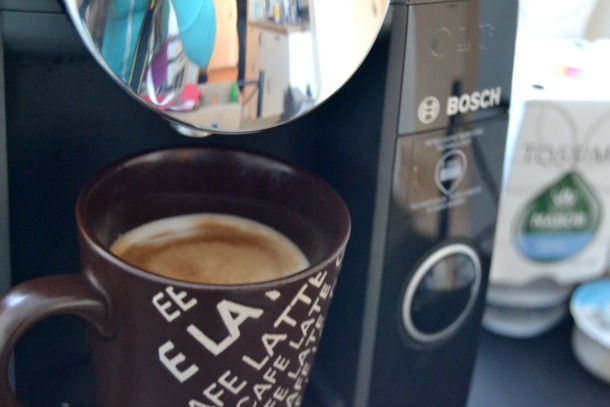 So what makes a TASSMIO the perfect Christmas gift, not to mention my favourite single-serve coffeemaker? For me, it's the barcode technology. Each T DISC features a special barcode that the machine reads and uses to create the perfect beverage. The temperature, water amount and pressure used to to create the drink are all calculated to ensure that every drink tastes like it was made by a master barista. I always especially notice this when making different drinks at the same time. Hot chocolate is pleasantly warm and ready to sip, while a cappuccino is frothy and piping hot.
But the other thing that makes the TASSIMO T47 a top holiday gift pick is the variety of T DISCs available for the machine! Even when I first owned a TASSIMO five years ago, the selection was great. And it's only gotten better since then! From delectably sweet and spicy Tetley Chai Tea Lattes to creamy and chocolaty Cadbury beverages, you don't have to be coffee obsessed like I am to enjoy having a TASSIMO in the house! And since there's so many great varieties of coffee, tea and hot chocolate available, it's the perfect machine for entertaining friends too!
If you're sold on why the TASSIMO T47 is this year's perfect Christmas gift, I have great news for you! TASSIMO Canada is very generously offering one lucky Mommy Kat and Kids reader their own TASSIMO T47 coffee machine, a $200 value! To enter to win, just leave a blog comment about whether you'd give the TASSIMO T47 as a gift if you won or keep it as a present for yourself!
Starting today, TASSIMIO is making this year's perfect Christmas gift even better! From now until Boxing Week, you'll find the TASSIMO T47 on sale for $139.99 at most major retailers including Canadian Tire, Sears, Hudson's Bay, Best Buy and Home Outfitters! At this price, you can grab one for yourself AND treat the person at the top of your nice list to gourmet beverages all year long. No matter which hot drinks satisfy your soul, a TASSIMO T47 brewer in your household will make it quicker and easier to enjoy perfect beverages any time!