One of the things that always amazes me about baby products is how many innovations are still being made when it comes to baby care. In just the few years since my boys were babies, products are now safer, more comfortable, more versatile and more effective when it comes to raising a happy baby. And Best Buy Canada has done an amazing job of finding those top products and offering them to parents at a great price!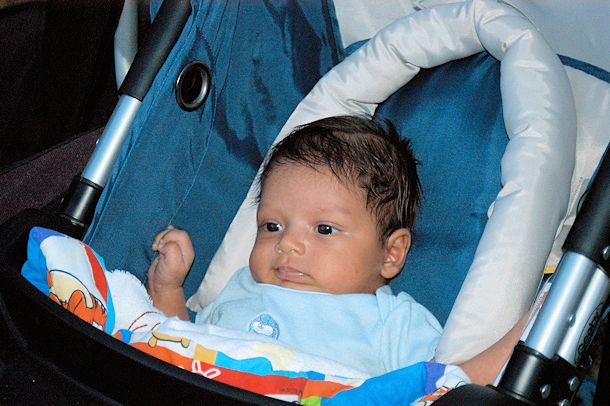 Even better, from right now until March 9, Best Buy Canada is making its great selection of baby products even more appealing during the Best Buy Baby Sale! If you've been longing to stock up on baby gear for a new little one, this is the time to do it! As I glanced through the sale items, I couldn't help but think about what I might have bought if these products had been available when my boys were babies. These are my top pics for must-haves for any new moms!
Graco Maddox 3-in-1 Crib
If there's one thing that instantly makes a piece of baby gear more appealing to me, it's versatility. And this crib boasts plenty! Its convertible design ensures that when baby outgrows the crib in its initial configuration, it can be converted into a toddler bed or a daybed so that one purchase will provide years of use for your little one!
Motorola Smart Nursery Wi-Fi Dream Machine
Technology has provided some amazing benefits to busy moms and this machine is a perfect example of that. The Dream Machine projects a light show for baby along with soothing music to help put a little one to sleep, and is controlled via an app so that you don't have to sneak into the room to turn off the music!
Evenflo Sure Ride Convertible 2-in-1 Car Seat
Just like my chosen crib, this car seat has versatility that means one purchase is all you'll ever need. Used rear-facing, the Evenflo car seat is rated for newborns of only 5 lbs up to 40 lbs and used front-facing, the seat can be used for children up to 65 lbs! In other words, this one car seat will keep your child safe and secured from birth to preschool!
Fisher Price 4-in-1 Rock 'n Glide Soother
Being able to soothe a cranky baby is no easy task, but this clever chair was designed to do just that with four different rocking and gliding motions that mimic being held and rocked in a parent's arms. The removable toy bar helps entertain older babies while the 360-degree rotation ensures baby is always in sight.
Ergobaby Natural Curve Nursing Pillow
As somebody that breastfed my boys until they were 30 and 26 months respectively, there are few things that I appreciate more than a good nursing pillow. I'm a huge believer in the benefits of breastfeeding, but it can be difficult at times and anything to make it easier is a blessing. This supportive pillow is the perfect size and shape to make breastfeeding more comfortable, and the foam design is solid yet still comfortable for baby.
Aden by aden + anis Life's a Hoot Swaddle Set
Neither of my boys were big into swaddling, but that may have been because I didn't have luxurious muslin swaddles like these! Light and breathable, they're perfect for helping a little one feel comfortable and secure without overheating. And the adorable designs are perfect for baby boys and girls alike!
Aleva Naturals Bottle & Dish Liquid
When my boys got a little older and started drinking milk and water out of a bottle, I couldn't help but notice how some dish liquids left a noticeable residue and smell on their plastic bottles. I'm sure the taste was altered as well and went on a hunt for unscented dish liquid. This natural formula would have been the perfect solution with natural, plant-based ingredients that rinse off completely for perfectly clean baby gear.
Do you have a little one on the way? Best Buy Canada has started an amazing program that you won't want to miss. Sign up for The Baby Sampler Club and you could receive great free products and testing opportunities, just for sharing your thoughts in a review!
But that's not all! To help a new mom jump into motherhood feeling ready for anything, Best Buy Canada is very generously offering one lucky Mommy Kat and Kids reader a prize pack containing all seven of my top baby picks above, a $1000 approximate total value! To enter to win, just leave a blog comment about which of these items would be your top pick for a new baby.
Whether you're outfitting a nursery for your very first new bundle of joy or you just need to add a few key items for your second or third child, now is the time to do it with all the great savings available during the Best Buy Baby Sale. Check out all the savings for yourself and see what must-have products could make life easier, happier and more comfortable for you and your baby!