My first visit to Universal Orlando Resort two years ago was a little like discovering a magical portal to another world. I hadn't really known much about the park, so the rides, attractions and restaurants were all completely new to me, and I loved every one of them. After visiting, I shared my 7 Must-Try Unique Experiences at Universal Orlando Resort.
And this year, I had the chance to introduce my boys to the fun of Universal Studios Florida and Universal's Islands of Adventure for the first time too! So a few weeks ago, my husband, his parents, the boys and I packed up a few snacks and got ready to spend a day of fun and excitement at the two parks that comprise Universal Orlando Resort. Wondering what rides you won't want to miss? These were our family's top 10 picks!
Universal's Islands of Adventure
1) The Incredible Hulk
Our family loves roller coasters, and The Incredible Hulk is definitely a new favourite for all of us! Unlike a classic coaster with a slow climb followed by a speedy ride down, The Incredible Hulk launches the cars out at top speed right off the bat! Zackary was so excited to try this roller coaster for the first time and was grinning ear to ear when he stepped off at the end. He loved the speed, thrills and spins of the bright green coaster, and insisted on riding multiple times.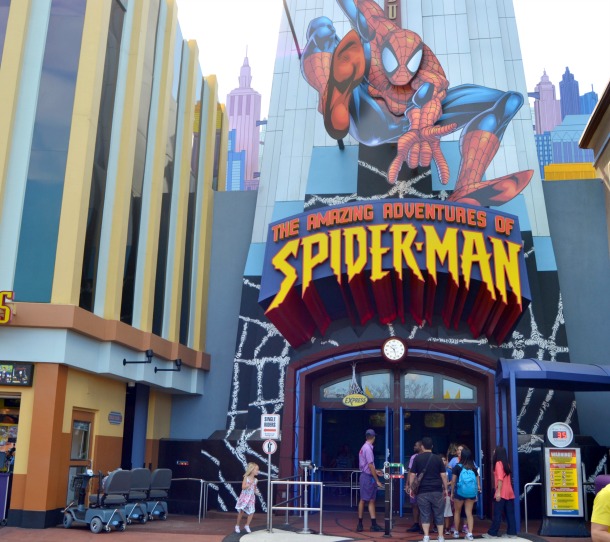 2) The Amazing Adventures of Spider-Man
This ride was one of the first 4D attractions at Islands of Adventure and personally, it's still one of my favourites. I knew my boys would love it just as much and expected Benjamin especially to be a big fan. I wasn't disappointed. From avoiding the heat of the flames shot by villains to feeling the spray of water when splashing into a lake, travelling with Spider-Man was nonstop excitement and the boys couldn't get enough of it. [Read more…]