While I love barbequing, I know that with summer winding to an end I'll soon be back to doing all my cooking indoors. I enjoy so much about autumn, but if there's one thing I'm really going to miss about summer, it's the convenience and great flavour of barbeque cooking.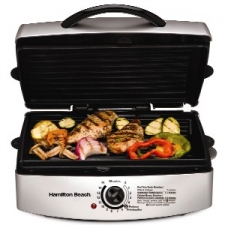 Fortunately, I recently got the chance to review an amazing grill from Hamilton Beach that in many ways is even better than a barbeque. The Meal Maker Express Contact Grill with Removable Grids is a family-sized cooker that still boasts a clever space-saving design. It has a sleek stainless-steel look and opens flat to double the cooking surface for larger meals. It seemed like the perfect multi-purpose grill for a busy family and I couldn't wait to test it out.
One of the things that I noticed immediately about the Meal Maker Express was how quickly it cooked different foods. Cooking a piece of beef strip steak took only five minutes and a boneless chicken breast took only eight minutes. The first time I used the grill, I tried cooking half-thawed, bone-in chicken thighs. I set the timer for ten minutes and while I had fully expected that the chicken wouldn't be fully cooked in such a short time, I was delighted to see that it was actually cooked perfectly when the buzzer rang!
The other great feature of the grill is the way that the grids drain grease off of food into the removable drip tray. I was a little surprised by how much grease dripped out of the chicken when I cooked it, and the thought that I had removed all that unhealthy fat from my family's diet was so gratifying.
Cleaning the grill was a breeze, which was a huge relief to me. I'm not a fan of cleaning and if an appliance requires too much fussing and care to keep functioning, the chances are I will stop using it fairly quickly. The Hamilton Beach Meal Maker Express Contact Grill featured removable, dishwasher safe grids and a removable dishwasher safe drip tray. For those like myself that don't have dishwashers, the amazing non-stick design of the grids made the clean up a breeze even when washing the pieces by hand.
And to top off all the other convenient features, the Meal Maker Express also features a handy timer with an automatic shut-off for added safety and set-and-forget convenience!
Since I received the Hamilton Beach Meal Maker Express, I have used it for everything from grilling vegetables to making gourmet sandwiches to cooking hamburgers. I love how quickly I can get a meal ready for my family using this amazing grill, and I love that the clean up afterwards is just as fast. If you need a grill that can do it all in record time, the Hamilton Beach Meal Maker Express Contact Grill with Removable Grids is perfect for you. It's a great hassle-free way to feed the entire family in a flash and it's so convenient to use that you may not even miss your barbeque this fall!
Buy It: To purchase the Hamilton Beach Meal Maker Express Contact Grill, check the website for a retailer near you
Disclaimer: The product/s mentioned above were provided free of charge from the company or PR firm for the purposes of this review. Opinions expressed belong to Mommy Kat and Kids and are NOT influenced in any way. Please view full Terms of Use and Policies