Infants
Bunnies By the Bay Toys and Nursery Decor – For any new little ones in your life, the adorable Bunnies By the Bay products are sure to be cherished for years to come. Choose from cuddly blankets, plush toys, clothing and more. The Buddy Blankets and Bye Bye Buddies are a special favourite and can even be personalized with the name of a precious child to make the gift even more special! See the full collection and learn more at www.bunniesbythebay.com.
ARV: $14.95-$84.95
Aveeno Baby Eczema Care Nighttime Balm – If you know a new baby that's suffering from Eczema or irritation due to dry skin, new Aveeno Baby Eczema Care Nighttime Balm is a simple gift to help provide relief through the winter months. Pair the soothing balm with a pretty dreamcatcher and a muslin swaddle to help ensure restful nights for both baby and parents. Find the product at stores across North America; learn more at www.aveeno.ca.
ARV: $19.97
Diono Dreamliner Travel Bassinet and Travel Pal – Traveling with a baby can be stressful, especially during the busy holiday season. The Diono Dreamliner Travel Bassinet helps make it easier by providing parents with a convenient and portable bassinet to cradle a little one comfortably when away from home. The bassinet features a quick fold design, a thick and comfortable water-resistant mattress and a multi-position canopy with an insect net and shade cover. And to keep gear organized on those long car trips, the Diono Travel Pal is an easy and affordable organizer that straps into place between seats. With two drink holders, side pockets and a large main organizer, it keeps crafts, toys, snacks and food neat and acessible. Available now at stores across North America; learn more at www.diono.ca.
ARV: $99.99 and $19.99
Children
Crayola Creations Jewel Maker – For the little fashionista on your holiday shopping list, the Crayola Creations Jewel Maker will provide hours of fun on Christmas morning! Creating dozens of pretty and unique pieces of jewelry has never been so easy, and the personalization options lets kids show off their individual style with every piece they create. Find the set at stores across North America or online at www.crayola.ca.
ARV: $27.99
Gommettes Christmas Fun Book – Every child loves stickers, and Gommettes books put a new twist on the classic sticker book by using geometric shapes to create unique pictures. The Gommettes Christmas Fun Book features a variety of vibrant holiday scenes, all of which can be completed with simple shapes including circles, rectangles and stars. Appropriate for ages three and up, this book is a great choice for helping kids understand the way basic shapes help to make up our complex world! Find the book at stores across North America, and learn more at www.littlebeebooks.com.
ARV: $6.99
NERF Mega Mastadon Blaster – If you have NERF fans in the house, they'll go crazy for this king of all blasters! Featuring battery-powered blasting action and a 24-dart revolving drum, it's sure to provide hours of fun while getting kids moving at the same time. Grab the safety glasses, set up a few targets and get ready for some epic adventures both indoors and outside. Find the NERF Mega Mastadon Blaster at toy stores across North America; check out the full line of blasters at www.hasbro.com.
ARV: $119.99
Epic Big Nate Book – The Big Nate comic strip celebrates its 25-year anniversary this year and has released a gorgeous hardcover book to celebrate! Featuring thousands of comics, commentary from the author and an exclusive interview, it's a must for Big Nate fans of all ages. Find it at book stores across North America; learn more online at www.andrewsmcmeel.com.
ARV: $50.00
Peekaboo Beans Clothing – When it comes to holiday clothes, kids love outfits that are comfortable enough to encourage play and movement. And Peekaboo Beans has become Canada's top choice for clothes that feel as great as they look! The high-quality line is made without harsh chemicals and dyes, with kid-friendly details including drawstring waists on pants, large pull tabs on zippers and even thumb holes on long-sleeved tees! Some top picks for the holidays include the girls' Only A Girl Coat with the Show Stop Leggings and the boys' Ranger Pants with the Historical Tee! Learn more and shop online at www.peekaboobeans.com.
ARV: $14.49-$129.00
Women
GlobeIn Artisan Box – For a woman that dreams of traveling the globe, a beautiful box of handmade items from artisans around the world will make a welcome and unique gift. Choose from a variety of different boxes in themes ranging from cooking to cleaning to traveling to relaxing at home. Each GlobeIn Artisan Box includes information about the artist that created each piece and for a gift that keeps delighting all year, a subscription option is also available! Choose your favourite box at www.globein.com.
ARV: $50.00
Libre Tea Glass Infuser – Every tea lover knows that loose leaf tea leaves are a must for that perfect cup. And if you know a woman on the go that still loves enjoying a perfectly brewed cup of tea, the 14 oz. Libre Tea Glass Infuser in Garden Dance Pink is an ideal gift choice. Just add loose leaf tea to the mug, fill with boiling water and screw on the mesh screen cap. The screen filters out the tea leaves as you sip for a delicious cup of tea anytime! See the full selection of Libre Tea Glass Infusers online at www.libretea.com.
ARV: $26.95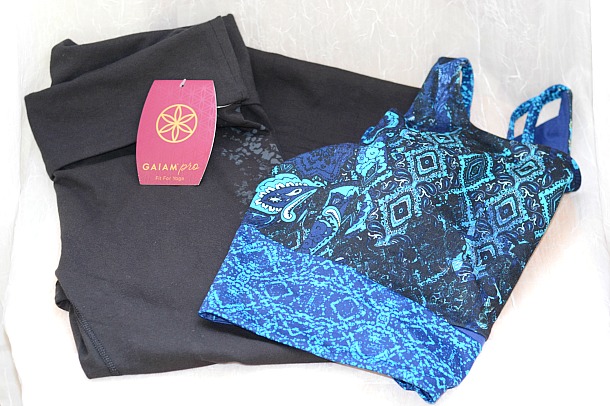 Gaiam Yoga Wear – One of the top names in yoga mats and gear is now offering a fresh new line of clothing that any yoga enthusiast will love. The Nova Bootcut Yoga Pants feature a fold-over waistband, artistic designs on the leg and a cotton spandex blend that's completely opaque. The Harlow Crop Top boasts double straps at the back, removable cups and a pullover style that provides ideal support for the most challenging poses. Find the pieces at select stores across Canada or online at www.gaiam.com.
ARV: $34.00-$68.00
Men
Sound+Sleep SE Machine – Studies are proving more and more that a good night's sleep is vitally important to overall health and well-being. A white noise machine is a great way to ensure deep, uninterrupted sleep and the Sound+Sleep Special Edition Sound Machine is the Cadillac of white noise machines. It boasts 16 different sound profiles to suit different personalities, with multiple variations of each sound. And to help ensure that background noise doesn't interrupt the soothing atmosphere, the machine even uses Adaptive Sound technology to listen to surrounding noise and adjust volume level automatically to drown out potential sleep disturbances! If your man is a restless sleeper, this is the one gift you'll want to make sure is under the Christmas tree! Learn more at www.soundofsleep.com.
ARV: $149.95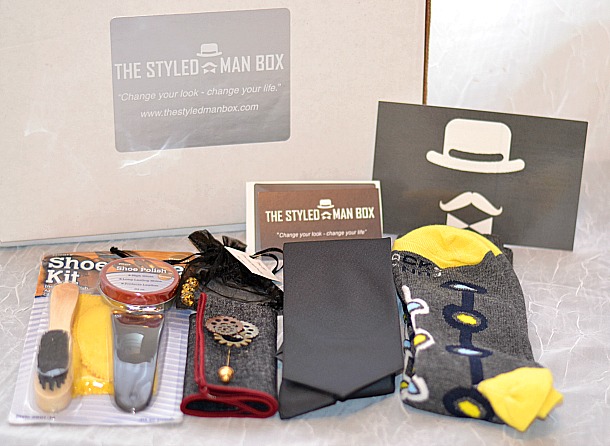 The Styled Man Box – Everybody's crazy 'bout a sharp dressed man, and if your man knows it and loves showing off his style, The Styled Man Box is a gift that will keep him looking dapper all year. Each month, a box filled with carefully selected men's accessories worth between $85 and $100 in total will arrive at the door, along with tips on the ideal suit and shoes to pair with the items. As an added bonus for any fashion-loving ladies, each box also features a "Little Black Bag" with a fun jewelry item for her! Learn more and order your subscription at www.thestyledmanbox.com.
ARV: $33.99


175 Best Air Fryer Recipes Book – Anyone with an Air Fryer loves the way it gives food a delicious deep-fried taste with little to no added oil, and health-conscious guys everywhere have made the switch from deep frying to air frying. This year, challenge your man to explore the full potential of that Air Fryer with the many recipes in this handy cookbook! From decadent desserts to hearty breakfasts, he won't believe just how versatile the Air Fryer can be! Find it at bookstores across North American; learn more at www.robertrose.ca.
ARV: $27.95