Holiday Gift for Pet Owners
Pets are wonderful, but they do take extra work. And while feeding, exercising and playing with your pet may not be much of a chore, cleaning up their hair can definitely be frustrating!
We used to have a large Rottweiler cross that shed huge hunks of hair all over the house and while he has been gone for years, we still sometimes come across hair that he's left behind! Our current pet, the standoffish Siamese cat that has reviewed cat products for me occasionally, doesn't lose huge amounts of hair but in the fall and early winter she still goes through a phase in which quite a bit of her hair falls out when we're petting her.
So how do we clean all that hair up quickly and easily? With a little help from Bissell Canada, of course! Bissell knows that different messes require different techniques, and the company has a product to tackle almost any floor or upholstery mess imaginable. When I received the new Bissell Pet Hair Eraser Cordless Hand Vacuum, I knew at once that it was just what I needed to deal with all the pet hair in the house!
I decided to test the vacuum out on our sofa and chair in the living room. Our furniture has a fabulous design of off-white with a blue, green and burgundy geometric pattern. It's very subtle and it hides everything! But even though the cat hair wasn't visible, I knew it was there and since I have extended family members that are allergic to cats, I wanted to make the house as free of cat hair as possible.
The Pet Hair Eraser Cordless Hand Vacuum has a few special features that make it especially good for removing pet hair. The most important is the rubber nozzle, which has small nubbins on it to help attract and catch pet hair. Because it's rubber, it's also safe for all kinds of surfaces, from hard floors to carpets to upholstery. When I started vacuuming the couch, I really noticed a difference in the way the vacuum moved over the fabric. There was some extra resistance as the rubber nozzle grabbed the fabric to pull off all the pet hair. It took about twenty minutes to do the job, but when I was done the sofa looked great and there was lots of hair in the vacuum canister!
Using the hand vacuum was quick and easy, and storing it for next time was just as easy thanks to the handy wall mount! We put it right in the living room in a corner by an outlet because that way it's always ready to use at a moment's notice. I just leave it charging all the time so that it's powered up whenever I need it.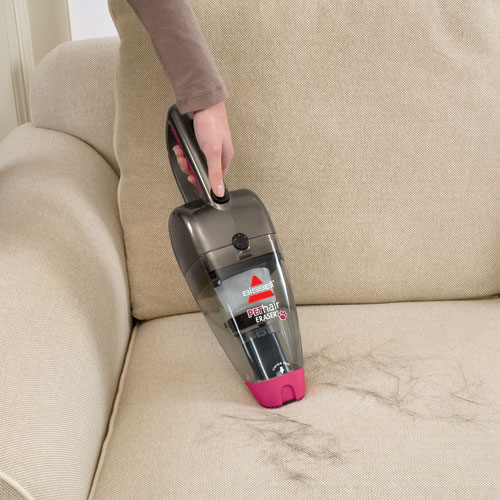 At just 4 lbs. the Bissell Pet Hair Eraser Cordless Hand Vacuum was nice and light and it even featured a pullout nozzle for corners or edges. While it works great for pet hair, I quickly started using it for other messes too. Whether the boys had a messy snack like popcorn or the family had tracked dirt into the house, the hand vacuum was perfect for cleaning it up in a flash. I even used it to clean our stairs, since it was so much lighter and easier to use than our full-sized vacuum.
Bissell Canada has recently launched a brand-new Facebook page and the company is celebrating with a fun Dirty Little Secrets contest! Just visit the Bissell Canada Facebook page and check out the Dirty Little Secrets tab to see how to enter. You can enter daily to win great products from Bissell or maybe even a trip for two to Las Vegas!
The Bissell Pet Hair Eraser Cordless Hand Vacuum can be purchased at major retailers across North America and would make a great gift for any pet owner looking for an easy way to keep their furniture free of pet hair. It would also be a great gift for busy parents looking for easy ways to clean up after their kids! Check it out for yourself and let someone you love see how easy cleaning up pet hair and so much more can be!
ARV: $39.99
Disclaimer: The product/s mentioned above were provided free of charge from the company or PR firm in exchange for being featured on Mommy Kat and Kids. Opinions expressed belong to Mommy Kat and Kids and are NOT influenced in any way. Please view full Terms of Use and Policies