Does anybody else find that doing things in the shower can be incredibly awkward? No, I don't have my mind in the gutter! I'm talking about those everyday cleaning and beauty rituals that we all have to perform. Wouldn't it be nice if there were a more comfortable way to shave your legs or wash your back while in the shower?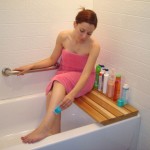 While now there is! The Butt Bench is an innovative and adorably named new product that is sure to be a hit with any woman that has ever balanced awkwardly on one foot to shave her legs in the shower and recently I got the chance to test it out for myself.
The first thing to note about the Butt Bench is that it doesn't work with every bathtub. A bathtub that is up to 30 inches wide without glass sliding doors is required for the bench to fit properly in the tub. The Butt Bench is simply a wooden seat capable of holding up to 300 lbs. with suction cups on the back to hold it in place so that it can be attached to the back of the bathtub to provide a comfortable seat.
My husband installed the Butt Bench and said that it was very easy to put into place. He loved the strong suction cups that held it to the back wall. The suction cups are in a simple slot so that they can be slid into the perfect spot for installing the bench. A proper seal can't be created if the suction cups are on a grout line, but since they can easily be moved back and forth, getting them into a proper position is no problem at all!
This wasn't an issue for us because of the way our bathtub was designed so my husband simply twisted the suction cups to tighten them up and hold them in place. Then he moistened them slightly and stuck the Butt Bench firmly to the back wall to secure it in place.
Just like that, the Butt Bench was installed! And I was so excited to test it out! The first thing I noticed was that it came in very handy for arranging extra bottles in the bathtub. With four people in our house and only one bathroom to share, we have a fair number of personal care products crammed into our bathtub area. The Butt Bench made it easy to arrange products at bath time so that they were easy to access during a bath or shower.
I also loved how much more comfortable my shower experience was with the Butt Bench. I absolutely loathe shaving my legs in the shower and I have almost slipped and fallen while doing so any number of times. But now, shaving my legs isn't just safer, it's more enjoyable too! I actually take my time with personal care of this sort now instead of trying to get it done as quick as possible.
The Butt Bench really isn't a great product for young children and we always take it out before our boys use the bathtub. Since they take baths together, I just know that somebody would bonk their head if it was left in place! Fortunately, thanks to the handy suction cup attachments it's easy to remove and reinstall quickly. But the one that has really benefited from the Butt Bench the most is my husband! He has chronic pain issues with his back and even something like standing in the shower can sometimes be hard for him. With the Butt Bench in place, he can sit down for a few minutes if his back starts to bother him and still wash up in comfort!
The Butt Bench would be a great product for senior citizens concerned about slipping in the tub and is such a convenient product for a busy family as well. With the amount of standing I do in a day, I'll take any chance I can to sit down and relax for a few minutes, and the Butt Bench lets me do just that, while still letting me wash up for my day at the same time! Check out this handy bathroom accessory and see for yourself just how comfortable and useful it really is. Once you have one, you'll wonder how you ever got along without it!
Buy It: Butt Bench currently has a great Valentine's Day promotion at their online shop. Save 15% off natural cedar and pine Butt Benches using coupon code ILUVBB or 30% off white and pink Butt Benches using coupon code VDAY