This post is part of YummyMummyClub.ca's Blogger Review Team Sponsorship Program. I received free samples from Proctor and Gamble in order to write this review. This post reflects my personal opinion and was not influenced by the sponsors.
My husband and I often have minor disagreements when we ride in the car. When I'm hot, he's cold. When I'm in the mood for peace and quiet, he wants to crank up the tunes. When I want to get home, he wants to stop at one more place…. For the most part, we just take turns dealing with a little discomfort. But there is one issue on which we've never been able to agree, and that issue is car fresheners.
I don't like them. I think they stink and they give me a headache. I have come across maybe two that I can tolerate, and even those make me feel woozy on a long car ride. My husband, on the other hand, cannot stand the slightest unpleasant aroma in his vehicles and when he cleans the car or minivan, he never really feels like the job is done until he has hung one of those awful cardboard trees from the rear-view mirror.
We were at an impasse on the whole situation when Febreze came wafting to the rescue with its brand new Febreze Car Vent Clips! I was absolutely delighted to learn that Febreze had created a new line of products especially designed for the vehicle. For whatever reason, Febreze products have never given me a headache or made me feel sick so I was hopeful that the Car Vent Clip might finally be a car freshening solution we could both agree on!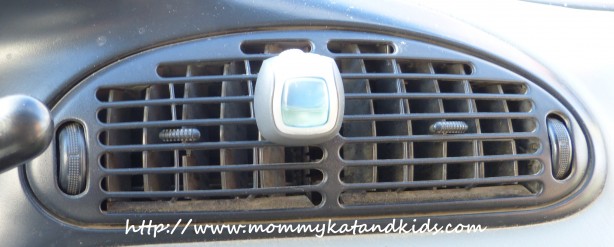 The clever design is a huge part of the car freshener's appeal. The handy freshener has a sleek black and grey design and a small compartment filled with the scent. I simply pushed up the clip in the back to lock the clip into place and puncture the scent compartment with one clean and clever action. I was then able to secure the Febreze Car Vent Clip on the front vent panel of the minivan. When the air from the vent pushed through the vent clip, the fabulous Midnight Storm aroma permeated the air!
Like all Febreze products, the Febreze Car Vent Clip didn't just cover up odours but actually eliminated them. Needless to say, my husband loved that feature! And the device even had a handy dial on the top so that I could control how much of the pleasant aroma was dispersed. I really liked the scent, but I still didn't want too much of it!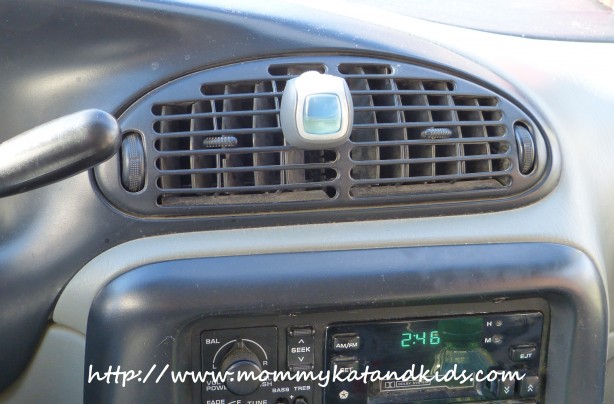 We also received a Meadows & Rain and a Linen & Sky Febreze Car Vent Clip and I loved that the packaging had handy scratch-and-sniff dots on the front so that we could see how we liked the various scents. My personal favourite was the Meadows & Rain; the fresh, crisp aroma reminded me of being in a grassy field in the summer. My husband said he preferred the muskier and manlier scent of the Midnight Storm vent clip that we had put in the van!
I am so happy to have finally found a car scent that my husband and I can both enjoy. Truth be told, I don't like unpleasant aromas in the car any more than my husband does; I just had never found a way to solve the problem without overpowering myself with scent! Thanks to Febreze, now I can enjoy riding in a car that smells as good as it looks!
To see other Febreze CAR Vent Clips reviews, click here.