Looking for a better snack to satisfy your afternoon chip craving? Something that combines gourmet flavour, incredible crunch and a non-greasy baked taste to create the ultimate chip? You're looking for Twistos! These light and crunchy snack bites sounded like a tasty treat for any chip lover and I was delighted when I got the chance to test them out for myself.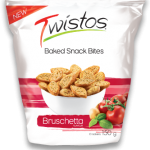 I received three varieties of Twistos Baked Snack Bites to review and I decided to test out the Bruschetta variety first. I was a little hesitant about a snack flavoured like Bruschetta but I was hooked after my first bite! The tangy tomato flavour was addictive and my husband and boys soon got in on the fun too and started snacking away.
We took the Parmesan and Garlic Twistos to my son's baseball tournament the following weekend and after opening the bag, my son ran off with it and shared it with his team. From the way they gobbled down the snack bites, the boys on the team enjoyed the Twistos as much as our family had!
I saved the final bag for myself. Asiago cheese has long been my favourite cheese and so when I saw that Asiago was one of the Twistos flavours, I knew that I'd be stashing that bag out of sight. One evening, my husband and I pulled it out and enjoyed the tasty, flavourful morsels with a powerful Asiago flavour.
As great as the gourmet flavour of the Twistos was, what really won my heart about these chips was their texture. It wasn't at all like the thin crunch of a potato chip and nor was it the heavier crunch of a baguette chip. Instead it was similar to the light and airy texture of a cheese puff. I loved the way the snacks crunched at the first bite and then dissolved in my mouth.
I'll definitely be buying the Twistos Baked Snack Bites again and while the two cheese flavours were great, it's the Bruschetta variety that I'll be reaching for first. The tangy crunch is just irresistible! If you're looking for a tasty new chip-like snack with a grown-up gourmet flavour, it may be time to give Twistos a try!