After a long day of school, work and extra-curricular activities, I usually find myself planning supper at the last minute. And that means that I eventually fall into a fairly regular routine of cooking the same few quick and easy supper dishes week after week.
But this year, VH Sauces wants to change that by providing Canadian families with some fun and time-friendly ways to excite their dinner.
I received a themed travel pack from VH Sauces containing a cute travel diary, some useful and fun travel accessories, a gorgeous Lonely Planet's 1000 Ultimate Experiences book and VH Sauces to help me add excitement to my family's dinner.
I also received a few recipe cards with some fun and easy meal ideas, so I decided to whip up the Beef Bulgogi for our dinner.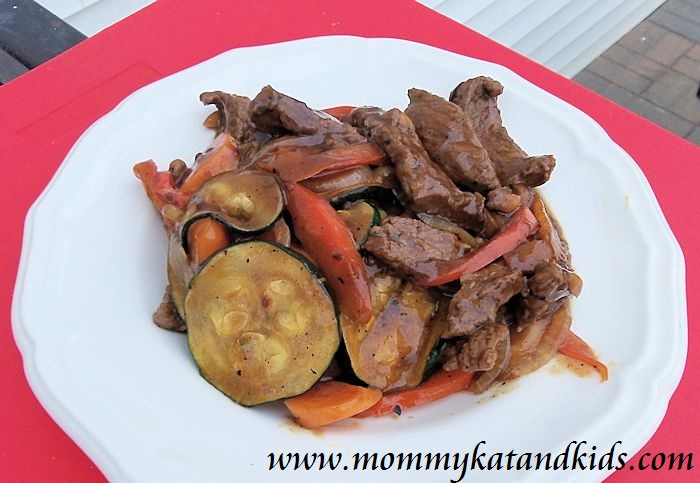 Now I did switch up the recipe a little bit. I had just brought in the vegetables from our garden so I had fresh zucchini and carrots on hand.
Instead of making rice with the dish, I upped the nutrients and minimized the carbs by adding sliced zucchini and carrot along with the onion and red pepper.
The new VH Korean BBQ Sauce had an absolutely incredible flavour and was nothing like what I had been expecting. It was sweet, slightly smoky and had a great tanginess.
I could almost imagine I was in a foreign land enjoying a new delicacy as I was eating, especially with the help of the gorgeous illustrations in the Lonely Planet's 1000 Ultimate Experiences book to page through!
The VH Bulgogi had been quick and easy to prepare and required just a little chopping of vegetables and slicing of meat to go from start to finish.
But the best part was that both of my boys loved it! Now neither of my sons is very good about eating vegetables at the moment and both turn up their noses at any sort of strange sauce, so I gave them each some plain noodles and a few strips of meat not really expecting them to even try it.
Imagine my surprise when Benjamin cleaned his plate and Zackary finished his portion and actually requested more!
I had a great time escaping my day-to-day routine with the exotic travel package and VH Sauces I received and I was so glad that not only did the sauces help me try something new, they also helped encourage my boys to try new tastes too!
If you're looking for fun new dishes to add to your list of quick and easy dinners, grab a bottle of your favourite VH sauce and see if it helps you add excitement to your dinner too!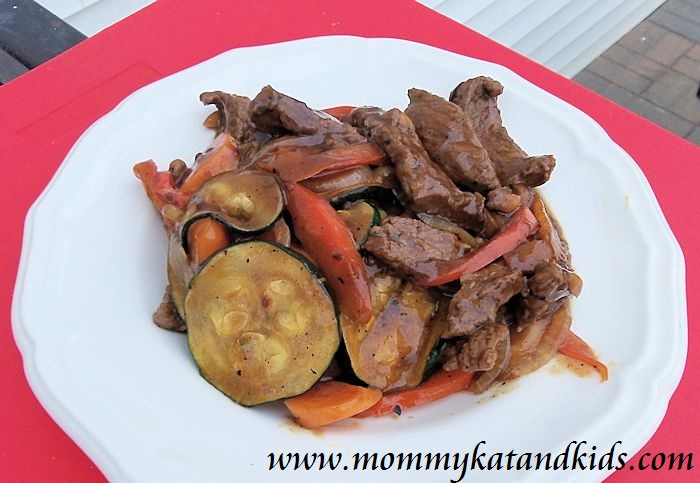 VH Easy Beef Bulgogi
A quick and easy beef bulgogi recipe using VH Sauces.
Ingredients
2 tbsp (30 mL) vegetable oil
2 cups (500 mL) onion, finely sliced
1 cup (250 mL) red pepper, finely sliced
1 1/2 lb (675 g) top sirloin, trimmed of fat and sliced as thinly as possible
2 tbsp (30 mL) VH® Soya Sauce
1 bottle (355 mL) VH® Korean BBQ Sauce
1/2 cup (125 mL) green onions, finely sliced
Instructions
In a large sauté pan heat 1 tbsp (15 mL) oil over medium-high heat, add onions and peppers and stir-fry for 7 minutes or until tender, remove from pan and set aside.
Add remaining 1 tbsp (15 mL) oil (more if needed) to pan, add beef strips and stir-fry until browned well, about 12 minutes. Add VH® Soya Sauce, cook for one minute longer.
Add peppers, onions and bottle of VH® Korean BBQ Sauce to the pan, heat through.
Sprinkle with green onions and serve.
Nutrition Information:
Yield:

6
Serving Size:

1
Amount Per Serving:
Calories:

274
Total Fat:

17g
Saturated Fat:

3g
Trans Fat:

0g
Unsaturated Fat:

12g
Cholesterol:

33mg
Sodium:

396mg
Carbohydrates:

11g
Fiber:

5g
Sugar:

6g
Protein:

21g
Disclosure – I am participating in the VH Excite Your Dinner blog tour by enCompass Media on behalf of Con Agra Foods. I received compensation as a thank you for participating and for sharing my honest opinion.