If you're looking for a great gift for a an older child this Christmas, LiteHawk has toys that will keep him entertained for hours. LiteHawk helicopters come in a huge variety of styles and are sure to be a hit with everyone from school-aged kids to grown adults.
Recently I received two of the new LiteHawk Helicopters to check out and I couldn't wait to see what they were like. Remote control helicopters used to be something that were expensive to buy, difficult to fly and easy to break. But LiteHawk changed all that by introducing a line of durable and easy-to-fly helicopters with an approximate retail price of about fifty dollars!
I received the LiteHawk Duo and the LiteHawk 2012 Collector's Edition 6996 to review. I took a look at the Duo first. This helicopter is designed as a Search and Rescue unit and I loved the fact that it had a downward facing LED light to simulate the search light on a real rescue helicopter!
The 6996 was more of a classic helicopter. It had a great modern look with a white body and was definitely a sleekly designed machine. But the best things about the LiteHawk 2012 Collector's Edition 6996 Helicopter was that it included special FLITE-SIM software that worked in tandem with the controller so that I could practice flying on my computer before taking to the air with the actual helicopter!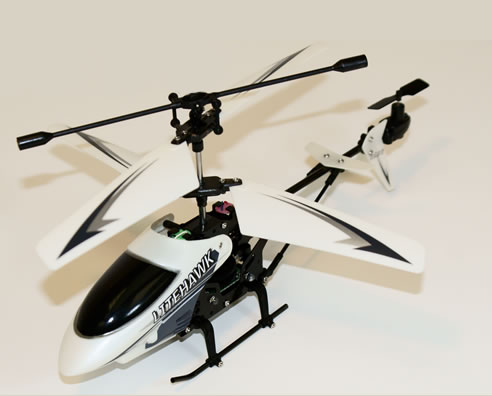 Personally, what I loved most about the LiteHawk helicopters was how easy they were to fly. While it took a bit of work to figure out the different controls and get the trim adjusted for a proper hover and control, it was surprisingly easy to get the helicopter in the air and flying!
And because I have two rough-and-tumble boys, I really appreciated that the LiteHawk helicopters, unlike some other brands, had a sturdy plastic and metal construction that wouldn't break at the first bump.
You can purchase LiteHawk helicopters at select retailers across North America so check out the selection and surprise your favourite aviator with a gift that will let their imagination soar. From beginners to experienced flyers, there's a helicopter for every skill level with LiteHawk!