When my oldest son was born, one of the first things he learned to do as he grew from an infant to a toddler was make the "vroom" noise of a car.
At ten months old, Zackary couldn't say "Momma," but he could push around the Hot Wheels Twin Mill car that Santa had put in his stocking that year yelling "VROOOM! VROOM!" as he did.
And so began my son's love of cars, a love that he still has six years later.
At two years old, Zackary's collection of Hot Wheels had grown to over 100 cars and not only could he tell interested parties the name of every single one, he could also tell people how the car had joined his collection.
I have to admit, I didn't even really know Hot Wheels cars had names until my son first asked me "What's this one called?" and I turned it over to discover the tiny writing on the bottom.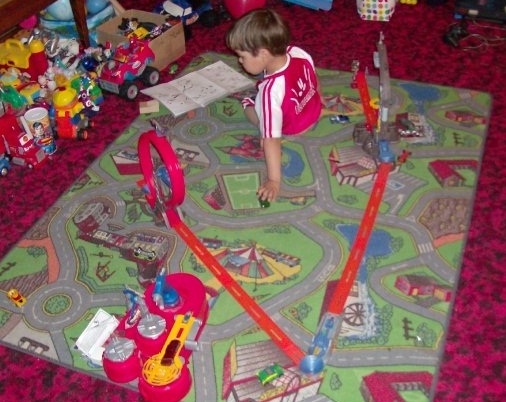 At three, Zackary's collection had grown too large for him to remember the origin of each car, though he still was able to name them all.
He had also started to develop a love of Hot Wheels vintage cars after seeing a number of older Hot Wheels on a video game he received.
When my car-loving son celebrated his fourth birthday, he had only one request: a Hot Wheels Lakester car. It was one of the coolest cars on his Hot Wheels video game and one we had been unable to find as we searched through boxes of toys at garage sales and toy stores.
I decided to order the car online for him and to this day, that car is up on his dresser in a place of honour.
Today my son's love of Hot Wheels cars isn't quite as all encompassing as it once was, but a new car still makes his eyes light up with pleasure. When it comes to cars, my son is every bit the stereotypical boy.
So, when we recently received a case of the new Hot Wheels Kinder eggs along with a case of special pink Barbie Kinder eggs, Zackary was absolutely dancing with excitement.
We've only opened a few so far and Zackary hasn't received one of the six collectible Hot Wheels cars yet (though his younger brother has), but he's been incredibly patient and good-natured about it. "I just know I'll get one, Mom!" he told me one day emphatically. "I love Hot Wheels!"
Kinder Canada has really added a little extra joy to our household with these new Hot Wheels Kinder eggs and I recently shared some of them and some of the Barbie Kinder eggs with the children at my youngest son's playschool to spread some joy there too.
Kinder Surprise eggs have always added extra joy to my boys' day and that's even truer now that they have the extra excitement of seeing whether or not they were lucky enough to get one of the limited edition Hot Wheels collectible cars as their toy.
Check out these new Barbie and Hot Wheels Kinder Surprise eggs for yourself and let your kids have even more fun with Kinder!
Disclosure: I'm part of the KINDER® Mom program and I receive special perks as part of my affiliation with this group. The opinions on this blog are my own.