I love eco-friendly hair and body care products because they're as kind to my skin and hair as they are to the environment. I've had a chance to try a few different eco-friendly personal care products over the last few years, but one of the things that really gets me excited about the recent revolution of eco-friendly products is that there are constantly new and better formulas being developed. So when Boo Bamboo contacted me about reviewing its new line of baby skincare and adult haircare from bamboo, I was fascinated.
I received a great package containing Boo Bamboo Shampoo, Conditioner, Hairspray, Volumizing Mousse and Curl Defining Gel and Boo Bamboo Baby Body Wash, Body Lotion and Soothing Diaper Cream to review. The products contain all natural and organic ingredients and are free of parabens, DEA and gluten. Even though my boys are out of the baby stage, Benjamin's sensitive skin means that I still prefer to use baby products to minimize the chance of a reaction whenever possible. The first thing I noticed about the Boo Bamboo Baby line was its absolutely wonderful smell. The line contains coconut oil and the smell of coconut really comes through especially in the Baby Lotion.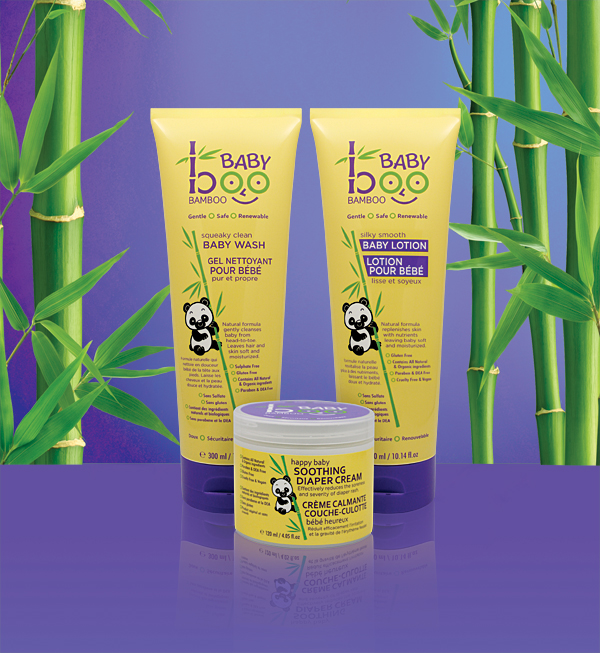 The products themselves were nice and light and I was especially pleased by how quickly the lotion absorbed and how soft it left the skin without feeling at all greasy. The Soothing Diaper Cream was much richer and designed to heal and prevent diaper rash with organic bamboo extract and aloe vera. I am a huge fan of diaper cream not just for diaper rash but also for any other minor skin irritations my boys might face and this rich protecting cream was wonderful at soothing and healing upset skin.
The adult line of haircare had a much fresher, fruitier scent than the baby line and was specially designed to provide salon-quality results. I loved the fact that the line used bamboo extract to help strengthen and add shine to hair. Cold winter weather has a tendency to dry out my long, thick hair and so having a shampoo and conditioner that helped moisturize and protect my hair against breakage was wonderful. And I appreciated that the line included styling products as well! The hairspray was an especial favourite with me; with bamboo and moringa extract, it strengthened while providing a great firm hold for my style!
I was delighted to discover the effectiveness of bamboo extract in these fabulous product lines and I'm so happy that the products contain natural, organic ingredients too! And all Boo Bamboo and Boo Bamboo Baby products are also vegan and cruelty free! Whether you're looking for soothing natural products for your little one's skin or a line of haircare that will gently give you the professional style you crave, bamboo extract, coconut oil and other natural ingredients can help! Check it out at Walmart Canada or visit the website for more info about this fabulous safe and natural line of products!