A few weeks ago I shared a picture of my new favourite shirt, a 007 t-shirt from the TIFF Shop, and indirectly revealed my love of all things James Bond. I've seen most of the movies, read all of the books and have a random collection of 007 merchandise. So when I heard about the Bond Girls collection from OPI, I knew I had to have it.
This brand new collection of six Liquid Sand nail lacquers features a textured matte finish with a sophisticated sparkle perfectly befitting any Bond girl. With colours inspired by and named after some of the most popular Bond girls of all time, these six shades are sure to dress up any summer outfit!
I received the complete OPI Bond Girls collection to review and as soon as it arrived, I grabbed the Honey Ryder gold shade and sat down to test it out. I loved the Honey Ryder gold, Jinx coral, Pussy Galore pink, Solitaire white, Tiffany Case blue and Vesper purple shades in the collection but I was especially interested to see what the Liquid Sand finish of these polishes was like, as it was my first experience with a matte finish polish.
The nail lacquer didn't disappoint. It was easy to apply and dried to a slightly rough finish that looked incredibly modern. And when the light caught my nails, the resulting sparkle was absolutely gorgeous!
I tested out the Jinx coral shade a few days later and for summer fashions, this bright red-orange hue is sure to be a hit. Then I decided to experiment with a bit of incredibly simple nail art by painting half of each nail Solitaire white and the other half Pussy Galore pink. I just used a small strip of tape to cover half of my nails while painting on the Solitaire shade and then pulled it off and carefully filled in the other half with the very feminine Pussy Galore shade. Painted nails are still a relatively new thing to me, so the results weren't perfect, but I loved the look anyways!
If you'd like to dress up your look with these fun 007-inspired nail lacquers, you're in luck! OPI is very generously offering one lucky Mommy Kat and Kids reader the entire OPI Bond Girls Collection, a $48 value! To enter to win, just leave a blog comment about which shade in this collection you're most excited to try.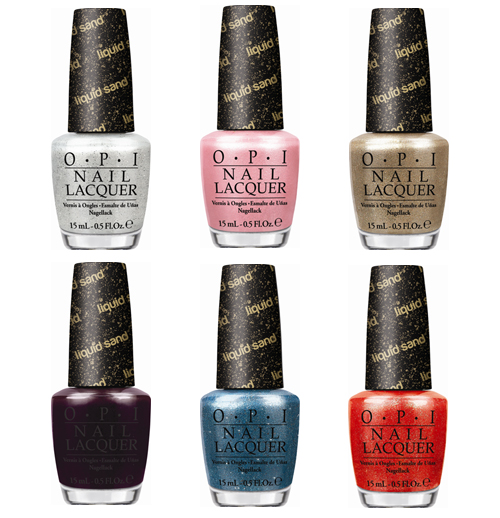 I've managed to become a bit of a nail polish addict since I stopped biting my nails and started painting them instead, but this collection is my favourite so far. Aside from the fact that it celebrates one of my favourite movie franchises, the Liquid Sand finish of these polishes is such an easy and trendy look for summer. Take a look at these hot new shades for yourself and see which Bond girl is your favourite this season!
a Rafflecopter giveaway