At 32, I know that it probably won't belong before I start seeing streaks of grey in my long brown hair.
I've decided that when that day comes, I will have a lot of fun dying my hair all kinds of vibrant colours, but for the moment I want to enjoy my natural colour while I can.
So I am always on the lookout for products that will nourish and strengthen my locks so that my hair looks its best.
I have used Live Clean hair care for a few months now and I love the eco-friendly plant based formulas designed to provide salon-quality results.
Recently I received the new Live Clean Exotic Vitality Polynesian Collection and it looked like the perfect hair care choice for a woman that craves long, strong, shiny hair.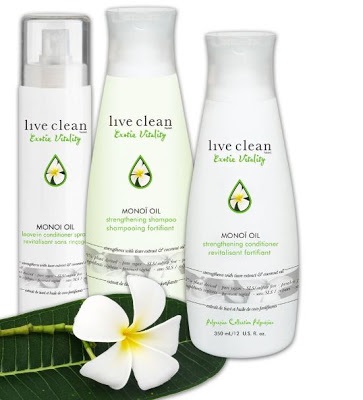 The line consists of Strengthening Shampoo, Strengthening Conditioner and Leave-in Conditioner spray enhanced with Monoi Oil.
The exotic oil has been used by Polynesian women for more than 2,000 years and has excellent preventative properties, making it able to strengthen hair before damage even begins.
As with many Live Clean products, one of my favourite features of this line is the smell. It has a fruity tropical scent that had me dreaming of days on the beach.
But it also had great moisturizing power that left my hair feeling silky and smooth. I especially loved the Leave-in Conditioner, which helped detangle my hair after showering and added a bit of extra sleekness to my look.
I've tried and loved a number of Live Clean products and this new hair care line is one of my favourites.
I'm looking forward to seeing if the strength of my hair improves over the coming weeks and I'm already enjoying how soft and silky it is. Check out the new hair care line for yourself and see how Monoi Oil can improve the look of your hair!