The Teenage Mutant Ninja Turtles are a huge hit in our household and from now until August 22, 2103, everyone's favourite ninjas are fighting crime at a Walmart near you! Right now you can download a fun and free Teenage Mutant Ninja Turtles app game that lets you bring the Turtles to life on your phone through augmented reality!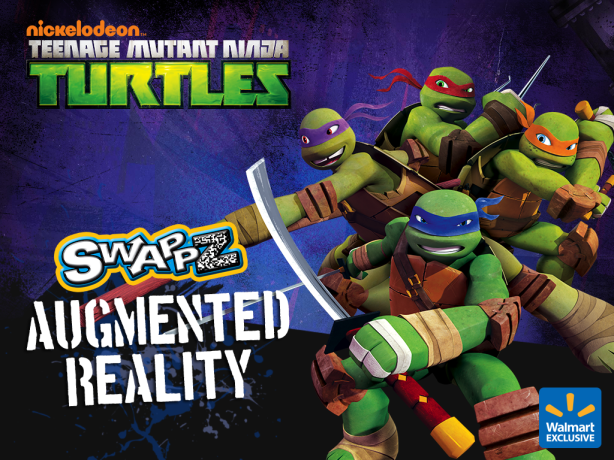 Getting started is easy. Just download Swappz Augmented Reality from the Apple App Store or Google Play. Then visit your local Walmart before August 22, 2013 to find special Teenage Mutant Ninja Turtles signs throughout the stores. The app provides a fun "treasure map" experience that kids can use to find the signs.
That's when the fun really starts! Scan the signs with your smartphone to unlock each of the four turtles and bring them to life on your smartphone through augmented reality. The turtles will perform a variety of ninja moves once unlocked and by bringing all four turtles to life, kids get access to a special Teenage Mutant Ninja Turtles trivia game!
While you're at the store, don't forget to check out the collection of fun Teenage Mutant Ninja Turtles apparel, toys and DVDs available. Personally, my boys are absolutely in love with the TMNT Action Gear sets. In fact, I think I'm going to use these sets as part of their Halloween costumes this year and let them dress up as Leonardo and Michelangelo when they go trick-or-treating!
To celebrate this fun promotion, Nickelodeon is very generously offering one lucky Mommy Kat and Kids reader a $50 Walmart Canada gift card so that you can treat your little ones to some fun new Teenage Mutant Ninja Turtles merchandise! To enter to win, just leave a blog comment about which Teenage Mutant Ninja Turtle is your child's (or your) favourite!
And if you can't make it into the store in time, don't despair! The August 9, 2013 Walmart Canada flyer has an image that you can scan to bring each of the turtles to life through augmented reality on the flyer page!
I have to admit that of all the television shows my boys watch, Teenage Mutant Ninja Turtles is one that I actually enjoy watching as much as they do. Seeing the characters from my own childhood become a hit with my boys is so much fun for me, and the new episodes of the show are so entertaining! If your kids can't get enough of the "heroes in a half shell," make sure you stop by Walmart Canada before August 22, 2013 to bring the turtles to life for your kids!
a Rafflecopter giveaway