My oldest son Zackary has always loved building with blocks and over the years, he's developed from building huge towers with large Mega Bloks to putting together intricate sets of favourite characters. What I love about building sets is that they don't just give kids a chance to build a fun model. The characters and models are also good for hours and hours of imaginative play once the building is complete!
Recently Mega Bloks Canada sent me three of its newest building sets to review. When I was younger, the only Mega Bloks available were the larger First Builders variety perfect for toddlers just learning to build or kids with larger-than-life dreams for their creation. But the company has changed a lot since then and now it has a variety of sets appropriate for all ages! My boys were so excited to see the Mega Bloks Fire Truck Finn First Builders set with the original building blocks I remembered from my own childhood and the Hot Wheels and Skylanders Giants Mega Bloks sets featuring small blocks perfect for older children!
Benjamin is a great creative builder but he's not at the point of following instructions to actually create a model quite yet. He builds people, robots, towers and houses that are easily identifiable but he does so using nothing more than his own imagination. So the Fire Truck Finn First Builders set was perfect for fuelling his creativity! He used the included blocks to build onto the original fire truck and invented all kinds of fun adventures for the truck as it drove around. And I loved that the truck had a bin built into it that was perfect for storing the blocks when Benjamin was done playing.
Zackary, on the other hand, currently loves following the included instructions to build a complex model. He was absolutely giddy about the Mega Bloks Hot Wheels Super Blitzen Monster Truck set he received since it combined two of the things he adores, Hot Wheels and building sets, into one fun experience! Even better, the set included the pieces to create both a race car and a pull-back monster truck! He spent a quiet afternoon about two weeks ago assembling the set and has been incorporating the monster truck into his games ever since.
The final set we received was the Mega Bloks Skylanders Giants Arkeyan Robot King set and with a large robot with an iron fist that really fires and a Pop Fizz character that converts into beast mode, this set was another one that Zackary was pretty excited to start putting together. He constructed the characters and then held long and intense battles with the two figures as good and evil faced off!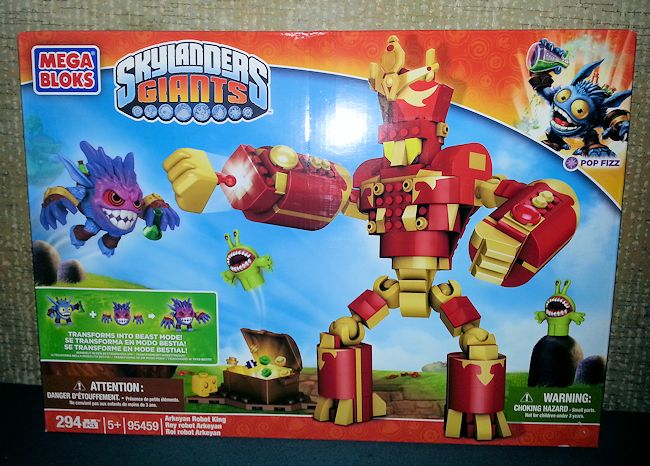 If you have a Mega Bloks fan in the house, you're in luck! Mega Bloks is very generously offering one lucky reader their choice of any one of the three Mega Bloks sets I received to review, up to a $33 value! To enter to win, just leave a blog comment about which set you would choose if you won.
I am so impressed by how much Mega Bloks has expended over the years and with new building sets for kids of all ages, it's a product that I know we'll be enjoying in our house for years to come. Check out the newest Mega Bloks sets for yourself and find a set that will get your child excited for some creative building!
a Rafflecopter giveaway