I know a lot of mothers-to-be that contemplate whether to choose cloth or disposable diapers.  For me, it was never a question; I simply wasn't prepared to do the work it took to use cloth diapers.  Sure, I've spent countless dollars on disposable diapers over the years, but I was sure that the simplicity of them was well worth it.  Nevertheless, when GroVia offered me the chance to try out one of its popular all-in-one diapers, I figured, "What the heck!" So with my third baby, I finally decided to give the cloth diaper a try.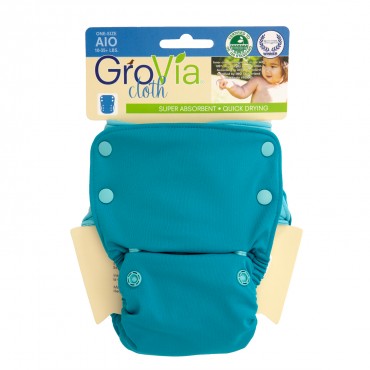 When I received the GroVia All-in-One Cloth Diaper, the first thought that occurred to me was comfort.  I realized how much more comfortable the cloth diaper must be for a baby than the rough disposable ones.  The inside liner of the GroVia cloth diaper is made with 100% organic cotton which is super soft and super absorbent. In fact, it actually increases in absorbency with each washing!  The outside of the diaper has soft stretchy bands for a comfortable fit around the legs and several snaps at the waist allowing for a perfect fit for babies from 10 to 35 pounds.  If you are going to invest in using cloth diapers, you might as well choose a one-size-fits-all style like the GroVia diaper.
I was excited to start using this comfortable and environmentally responsible new diaper with my daughter and after easily snapping it on her for the first time, I was pleased with myself for giving it a chance.  She looked so cute in her puffy little underwear and I was able to fit it to her perfectly with the different snap options.  I was nervous to put her down for a nap with the cloth diaper on, but two hours later when I went to get her up, her sheets were still dry even though the inside of the diaper was pretty wet.  Then I just snapped it off and popped it in the laundry.  The diaper doesn't require any special washing so it doesn't put any kinks in my laundry routine.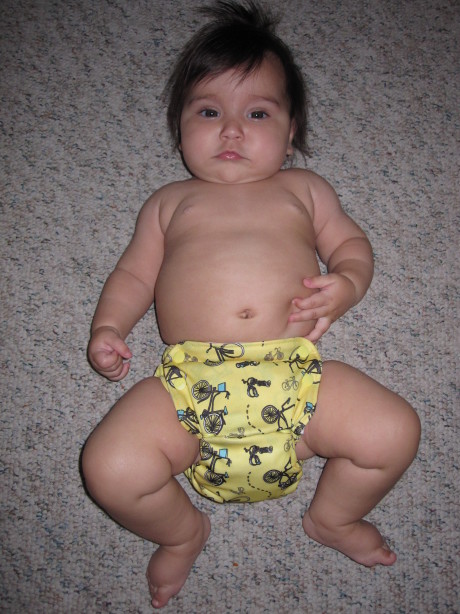 GroVia wants to help you discover how easy cloth diapering can be too, so the company is very generously offering one lucky Mommy Kat and Kids reader a GroVia prize pack containing a GroVia All-in-One Cloth Diaper and a sample of GroVia Magic Stick Diaper ointment, a $30 value! To enter to win, just leave a blog comment about whether or not you have ever used cloth diapers for your little ones.
I started to realize right away that cloth diapers aren't really the extra work load I imagined them to be.  Of course I only have the one so far, but I am really starting to wish I had more!  As my little one gets older I know I will be visiting www.gro-via.com to increase her cloth diaper collection.  GroVia cloth diapers are stylish, environmentally responsible, cost saving and comfortable. Too bad it took me 3 babies to finally come around, but better late than never!
a Rafflecopter giveaway