I love natural products and when I can get them from a local business, I tend to love them even more, because I knew exactly where the ingredients are obtained and who to contact if I have any issues. Recently, Saskatchewan momtrepreneur Shellan, creator of a luxurious line of bath and body products, gave me the chance to review some of the items she offers. I couldn't wait to try them out.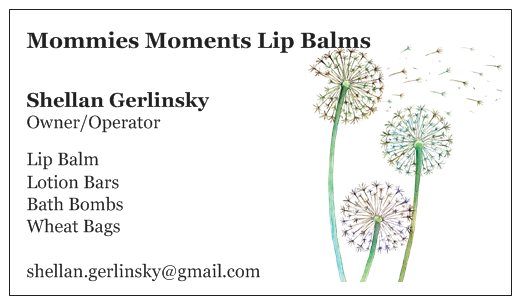 Shellan's company Mommies Moments Lip Balms offers lip balms, lotion bars, bath bombs and wheat bags made with natural ingredients and essential oils. I received Honey Vanilla Lip Balm, Honey Peppermint Lip Balm and a Lavender Vanilla Lotion Bar to test. I am a little bit obsessed with peppermint lip balms and so I was especially excited to see what the Honey Peppermint Lip Balm was like. I wasn't disappointed. With just a hint of sweetness from the honey and a great tingling sensation from the peppermint essential oil, it was absolutely delicious and left my lips feeling soft and nourished.
The Lotion Bar was another item I couldn't wait to try. I discovered lotion bars a few years ago and have loved them ever since. Not only are they great for helping relax and rejuvenate tired muscles, they also moisturize and nourish skin and leave behind a great delicious scent for hours after being applied. Best of all, the Lavender Vanilla scent of this lotion bar was perfect for those times when I was feeling stressed or anxious.
Mommies Moment Lip Balms also offers hot and cold wheat bags and bath bombs in a variety of scents with new products being added all the time. Check out the Mommies Moment Lip Balms Facebook page for all the newest products or to order some of these luxurious lip balms and bath and body products for yourself. Or email [email protected] to place a custom order or get more information on these fabulous natural products.
I loved the products I received from Mommies Moment Lip Balms and I can't wait to try some of the others. My neck often gets stiff from hunching over my laptop and I have a feeling one of the Wheat Bags would be just the thing to help relieve the stiffness in my neck. And I'll be making sure to get more Honey Peppermint Lip Balm when I finish the one I have; it's addictive! Take a look at the products and pick one to try yourself; you're sure to fall in love with these locally-made products!