There is nothing worse than having to drag around a big, hefty vacuum to clean carpets in a house. But having tried a few different vacuums over the years, I also know that lighter stick vacuums often don't do more than sweep off surface dirt from a carpet. So if you've ever longed for a vacuum that has the light and portable design of a stick vacuum and the deep cleaning power of a full-sized vacuum, the Shark Rocket Ultra-Light Upright Vacuum is your dream come true!
This multi-functional upright is the ultimate floor-cleaning machine. It never loses suction and deep cleans as effectively as a top-of-the-line full size upright vacuum. But with the ability to use the vacuum as a handheld unit and the option of using it on both hard floors and carpet, it has enough versatility to make it an essential in any household.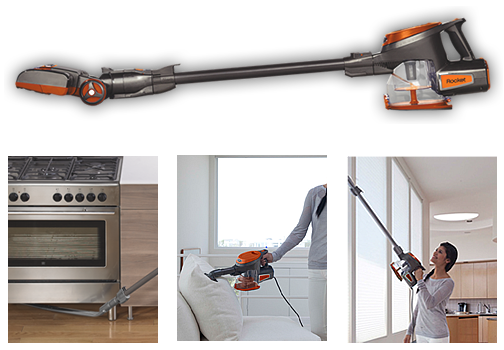 As a bonus, the Shark Rocket comes with an assortment of cleaning attachments for a variety of different surfaces. The vacuum includes a pet upholstery tool, a dust-away attachment, a 12" crevice tool and a dusting brush. A deluxe tool kit featuring a motorized hand tool, a multi-angle dusting brush, an 18" flexi-crevice and an under-appliance wand can also be purchased separately. No matter what you need to clean, the Shark Rocket has an attachment to help make it easy.
My personal favourite feature, though, is the way the Shark Rocket has been ergonomically designed to go from floor to ceiling effortlessly. The two-in-one design lets me use this vacuum to get the powerful suction and deep cleaning of an upright vacuum, but also quickly convert to a handheld vacuum and clean the ceiling fan in the kitchen, the living room stairs or the couch cushions.
There is so much functionality packed into this vacuum that weighs less than eight pounds, and for anyone that dislikes cleaning as I do, it's sure to make a great gift. Getting a house neat and clean from floor to ceiling has never been easier thanks to the Shark Rocket!