If there's one thing that a mother never stops needing regardless of her child's age, it's a diaper bag. My boys aren't in diapers anymore, so I don't want a bag that actually looks like a diaper bag. But since I'm carrying my own gear as well as items for my boys any time I leave the house, I still need a bag that is roomy and easy to keep organized. And then Ju-Ju-Be came to my rescue with the B.F.F. bag. In just a few short weeks, this bag really has become my best friend forever!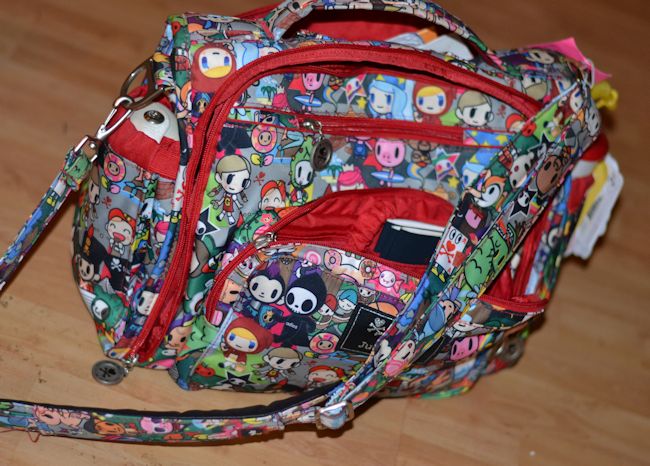 Ju-Ju-Be bags are already considered the ultimate must-have for a new mom, and with good reason. These bags are multi-functional, easy to organize and come in a huge array of designer styles. Tokidoki is a funky fashion line with a global cult following obsessed with its adorable characters and I have to admit, I fell in love with the Ju-Ju-Be B.F.F. Tokidoki bag in Fairytella as soon as I saw it. The Tokidoki fabric is fun and stylish, and the red lining and trim accents the bag perfectly. I couldn't wait for the bag to arrive so that I could see if it really was as useful as it was trendy.
And I wasn't disappointed! This bag has so many features that I absolutely love. From the adorable metal zipper tags inscribed with the Tokidoki logo to the straps and diaper change mat padded with memory foam, the beauty of this bag is in the details. I loved the fact that the bag included a regular handle as well as removable straps that let me wear the bag either crossbody style or as a backpack. And while it's big enough to hold all my essentials, it's small enough to still be manageable so that I feel like I'm carrying a purse instead of a suitcase.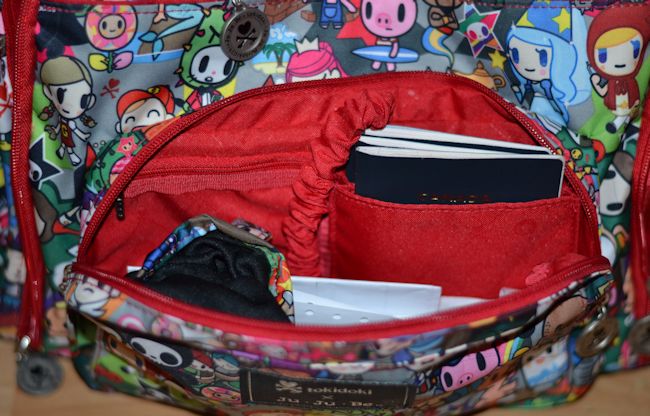 In fact, the bag was such a perfect size that I decided to use it as my purse on our recent trip to Jamaica. The roomy main pocket was the perfect size for holding my camera, my smartphone and snacks and drinks for the boys. The main pocket also features various mini pockets for organization, so I put my identification and credit cards into those.
The front pocket featured a sunglasses case, a handy elasticized key fob and two interior pockets. It was also the perfect place to store our passports as we travelled. The pocket kept them secure, but still easy to access. Two elasticized bottle holders on the side of the bag were so handy for holding drinks, and the back pocket that holds the changing mat was also a great place to store papers.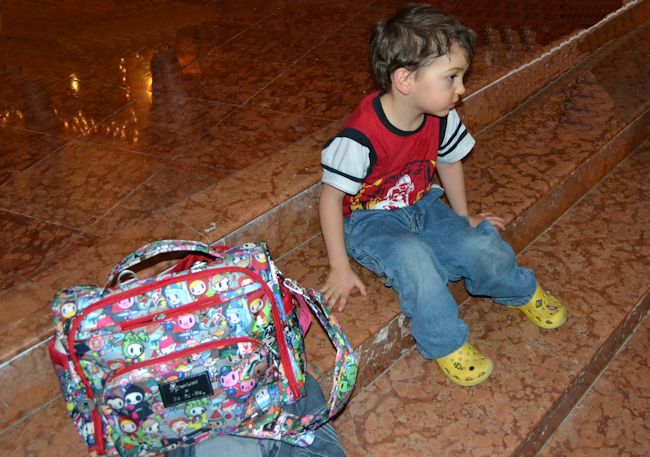 Even loaded with travel gear, this bag is easy to carry and looks fabulous. Through three different airports and all around Jamaica, I had the Ju-Ju-Be Tokidoki B.F.F. bag by my side and I couldn't have been happier about it. And I have to admit, every time I looked at it, I couldn't help but grin. The fabric is just so cute and original, and adds instant brightness to any look.
Now that I'm back home and have filled my bag for everyday use, I love it even more. The detail that goes into making these bags the ultimate mom essential is unbelievable. From picture pockets to show off photos of loved ones to a Teflon coating to repel stains to Thinsulate-lined bottle pockets to keep drinks warm or cold, everything about the Ju-Ju-Be B.F.F. Tokidoki bag has me swooning. My personal favourite feature is the AgION Antimicrobial Lining. Carrying kids' gear means that my bags tend to get dirty fast. Knowing that the lining can kill germs, mould, mildew and bacteria is such a pleasure!
If you'd love to experience the Ju-Ju-Be difference for yourself, you're in luck! The company is very generously offering one lucky Mommy Kat and Kids reader their own B.F.F. Tokidoki bag in Fairytella, a $170 value! To enter to win, just check out the Ju-Ju-Be new arrivals and leave a blog comment about which of the bags is your favourite.
There's not a doubt in my mind that I'll be using this bag for years to come. I've had quite a few "mom bags" over the years but I've never had one that surpasses my Ju-Ju-Be B.F.F. Tokidoki bag either in functionality or in style. If you need a bag that can do it all, this is an investment you need to make. You'll love how much easier toting all your child's gear becomes with a bag from Ju-Ju-Be!