I do a lot of online shopping and so I've spent quite a bit of time figuring out how to get the best bang for my buck online. I started shopping at Walmart.ca about six months ago and it didn't take long before I was hooked. With easy online ordering, free shipping with no minimum purchase and the same everyday low prices as my local Walmart store, I could always count on getting a great deal at Walmart.ca!
Now, the site I love has gotten even better with a recent new redesign that promises to provide a smooth shopping experience whether you're on a tablet, a smartphone or a desktop computer. And to test out the new website, I had the chance to tackle an online shopping challenge at Walmart.ca. There are a lot of little gifts I buy each year for neighbours, teachers, babysitters and the people that work at the businesses in our small town. My go-to gift is a box of Christmas chocolates, so I decided to see if I could stock up at Walmart.ca for less than $100.
As soon as I started searching the site, I knew I had made a good decision. There isn't a huge variety of food products on the Walmart.ca site just yet, but there are plenty of Christmas treats! I added Ferrero Rocher, Pot of Gold, Turtles, Toblerone and more to my cart and within fifteen minutes, I had everything I needed. Best of all, when I checked out, I had gifts for nine people, stocking stuffers for each of my boys and a tin of Premium Belgian Biscuits for me, all for just $90.63!
But I'd saved more than just money by shopping online. I'd saved myself the one-hour trip to and from the nearest Walmart and the time it would have taken to shop there during the busy holiday season. I'd saved gas money by not having to drive. And I'd saved the stress of looking for the items I wanted and maybe not being able to find them. Now that's a dream shopping experience!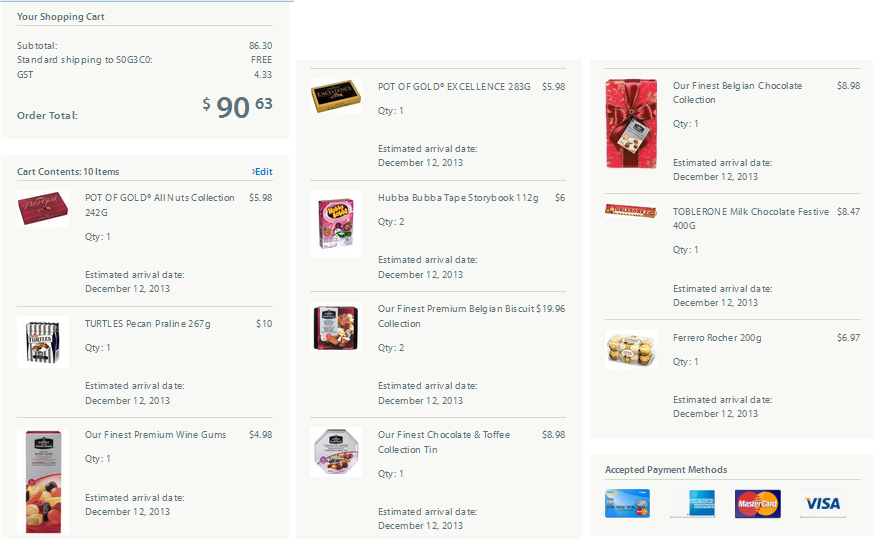 Since I saved so much time shopping for the gifts I needed, I decided to spend the rest of the afternoon playing a video game with my boys. It was so much nicer to race cars with my sons than it would have been to drag them through a crowded store!
I have shopped at Walmart.ca for everything from fish food to toilet seats and the experience is always a great one. In fact, just days before being asked to complete this challenge, I bought a new futon during the website's "Countdown to Black Friday" online event. The site is so easy to navigate, and the no-minimum free shipping makes it my first stop when I'm shopping online. If you haven't taken a look at Walmart.ca recently, you need to check it out. You'll love how much time and money shopping online will save you!