I am passionate about the importance of childhood literacy and the role that early education can play in creating successful readers. As an avid reader myself, I am determined to help my children grow to be strong readers as well and luckily for me, there are so many fabulous tools and materials available to help me with that goal. Recently the creator of the Little Champion Reader kit contacted me about reviewing her innovative three-in-one system and with Benjamin at the perfect age to start developing some basic literacy skills, I was only too happy to oblige.
This kit is colourful, beautiful and incredibly complete. It includes nine DVDs, fifteen sliding flashcards, fifteen phonics books and three blank flashcards with a dry erase pen. The kit even includes a bonus CD featuring more than 150 free printable worksheets! Benjamin and I sat down to examine the kit together and see what the contents were like.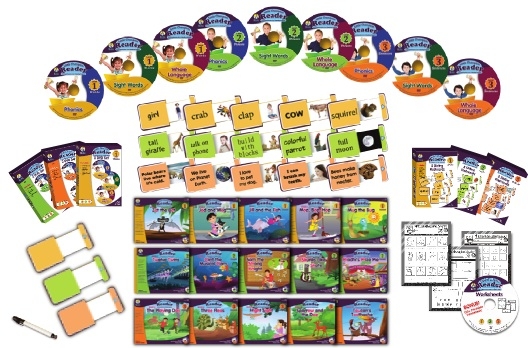 One of the first things I noticed about the Little Champion Reader system was that it teaches three different stages of reading. Level 1 teaches individual words, Level 2 teaches phrases and Level 3 teaches whole sentences. I loved the idea of breaking down the process of learning to read into the three different levels so that Benjamin could start slowly and work his way up to greater challenges.
My personal favourite feature of this kit was the phonics books. Benjamin loved the stories and I loved being able to use the colourful books to enforce different letter sounds. The books at the Level 1 stage covered the short vowel sounds and by constantly emphasizing and reinforcing the vowels in stories such as Zat the Bat or Mop, Bop, Hop, Benjamin soon had those sounds memorized.
Benjamin's favourite item in the kit, however, was the DVDs. I have to admit, I was a little bit surprised that he enjoyed them as much as he did. He only gets a limited amount of screen time and we have a lot of DVDs, so I would have expected him to select a more entertainment-based show instead when given the choice. But he happily sat down to watch the Level 1 Phonics and Sight Words DVDs, repeating the words being taught as he watched.
While I liked the books and Benjamin preferred the DVDs, we both agreed that the sliding flashcards were brilliant. The pre-printed flashcards featured a word or phrase on one side and a picture on the other. Benjamin loved trying to read the word and then flipping the card over to see if he was right. And as an added bonus, the kit included blank flashcards as well! We both had a blast as I wrote words on one side of the card and scribbled quick pictures on the other for Benjamin to read!
This kit is designed for children between 3-7 years of age and if you have a pre-reader or child currently learning to read, you're in luck! Little Champion Reader is very generously offering one luck Mommy Kat and Kids reader their own Little Champion Reader kit, a $150 value! To enter to win, just check out the Little Champion Reader website and leave a blog comment about your favourite feature of this reading system.
It's never too early to start building the foundation for literacy and personally, I've found that when kids are starting to memorize the pages of their favourite books and asking to have words read to them, the timing is perfect for introducing a reading system such as this one. Or when children are already in the midst of learning to read, some fun new learning materials can make the process even easier! Check out the Little Champion Reader website for yourself and help your child develop the literacy skills they'll need for school success in the future!
a Rafflecopter giveaway