Since I'm not the best photographer, I depend a lot on editing software to create pictures that are brighter, more artistic and just generally more attractive. But I'm not an expert photo editor either, so I need programs that are user-friendly and fairly straightforward, yet with the ability to transform my pictures. For years I've been using Corel PaintShop Pro X4 for my photo editing, but I knew that improvements were being made to the software and so when I got the chance to upgrade to the latest version of PaintShop and VideoStudio Pro, I couldn't resist. I have become fairly comfortable with the programs over the last year so I looked forward to testing out an interface I knew well along with even more fun features!
One of the major upgrades in Corel PaintShop Pro X6 is that it now features 64-bit power, which means that it can handle more large files at once and edit those files faster. Even HDR rendering is quicker! The Object Remover has been redesigned to remove unwanted objects from photos faster, and the new Auto Selection tool makes selecting portions of an image a hassle-free process.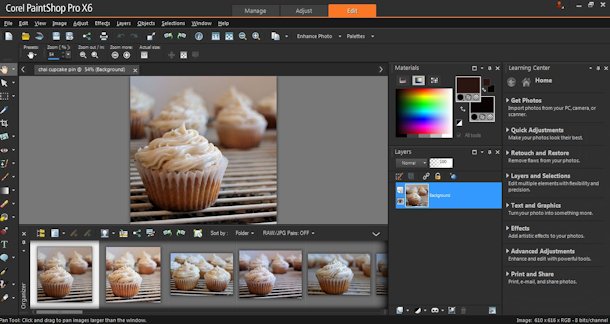 Of course, Corel PaintShop Pro X6 still offers all the basic editing techniques such as red-eye removal, scratch removal and one-step photo enhancing, as well as more advanced and creative techniques. I've always loved playing around with some of the different effects such as increasing saturation or doing a conversion to black and white to create a special look for my pictures. It's a simple, one-step way of turning an ordinary picture into something artistic! I also loved the built-in video tutorials, perfect for a learner like me, and the scripting engine that allowed me to run the same steps automatically on a series of photos.

Corel VideoStudio Pro X6 is just as useful and though I haven't had as much experience with it as I have with Corel PaintShop Pro X6, I am gradually gaining more proficiency with it. I have to admit, I don't find the experience of using the Corel VideoStudio software as intuitive as I find PaintShop, but I learn more about it each time I use it! I love some of the simpler video creation tools such as Instant Projects that let me quickly put together a great movie or slideshow. And while I'm still new to the more complex features such as the time-lapse animations, I'm having plenty of fun learning how to use them! The editor even features 4K video quality capabilities!
Do you want to take your photos and videos to a new level? Corel is very generously offering two lucky Mommy Kat and Kids readers both PaintShop Pro X6 and VideoStudio Pro X6, a $180 value! To enter to win, just leave a blog comment about what photo or video you would edit first if you won!
So far I've noticed quite a difference between Corel PaintShop Pro X6 and Corel VideoStudio Pro X6 compared to the previous versions. They are easier to use for beginners and have more powerful features for advanced photo editors. I know it may be a while before I use some of the more advanced features, but the nice thing about these programs is that they're set up to be suitable for brand new users as well. Give them a try and start creating professional and beautiful photos and videos!
a Rafflecopter giveaway