I love animals and ever since I was a child there has almost always been one in my house. I went from being a devoted dog lover to completely cat obsessed, but having a pet is just a way of life for me. And with very few exceptions, our pets were always adopted from the Regina Humane Society.
I am a huge believer in the work that SPCAs and Human Societies do to ensure that pets find loving homes and I honestly can't understand why anyone would spend hundreds of dollars buying a certain breed of animal when there are so many amazing pets in need of loving homes already.
Raising awareness and funds to care for those animals is a cause I support, and that's why I'm so excited about National Cupcake Day!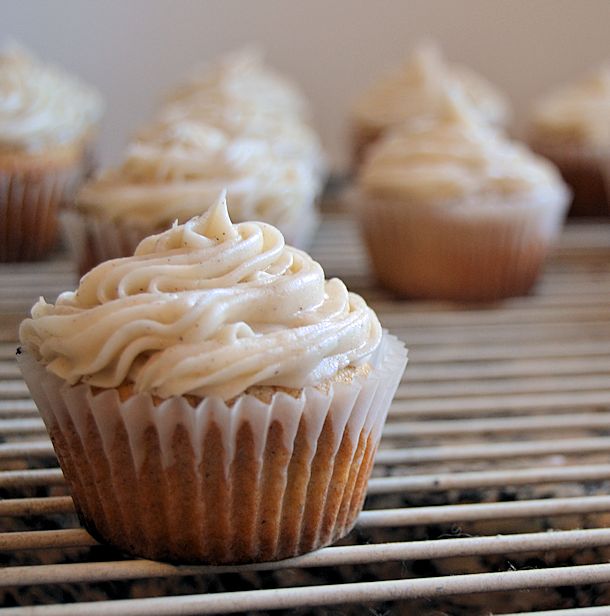 For the second year in a row, the SPCAs and Humane Societies of Canada are hosting a National Cupcake Day fundraiser on February 24, 2014. And this year, Anna Olson, celebrity chef and host of Food Network Canada's Bake with Anna Olson, is joining the party as a Cupcake Crusader.
A long-time supporter of animals and the SPCA, Olson has created an original cupcake recipe for this year's event. Her Banana Cupcakes with Peanut Butter Cream Cheese Frosting recipe can be found at www.nationalcupcakeday.ca!
To help me join in the fun, the sponsors of National Cupcake Day sent me a beautiful cupcake gift basket so I decided to show my support for the cause by whipping up a batch of cupcakes myself.
The basket included the Taste of Home Bakeshop Favourites cookbook and I created a variation of one of the recipes included in the book to make these tasty Chai Cupcakes with Cream Cheese Frosting!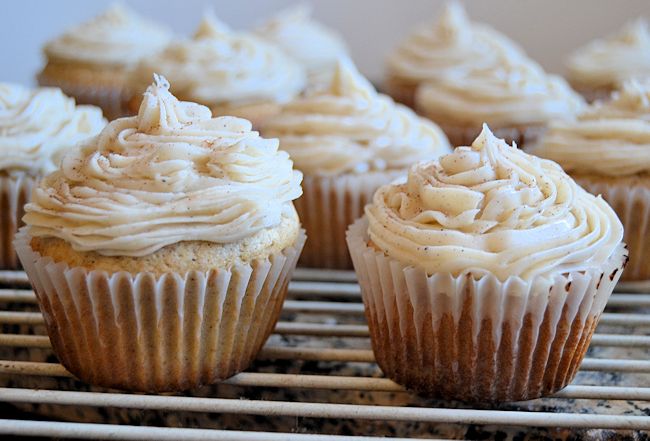 If you'd like to show your support for this worthy cause, participating is easy! Register as a National Cupcake Day Host at www.nationalcupcakeday.ca and you'll receive a free Cupcake Host Welcome Package in the mail which includes a poster, stickers, balloons, a fundraising guide and recipes to get you started.
Then plan a cupcake party at work, home or school, start fundraising by encouraging friends and family to donate online in advance, bake your favourite cupcakes, share them with family and friends and collect donations to prevent cruelty to animals!
The event is already raising so much money and I have no doubt it will raise much more by the time National Cupcake Day arrives on February 24. Get all the details on hosting a party and then "bake a difference" yourself this February; it's a fun and delicious way to help animals in need!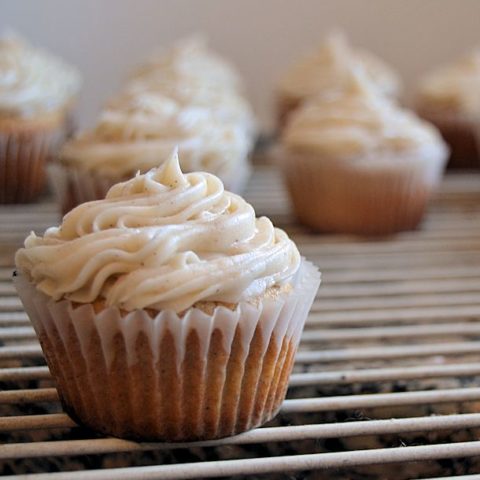 Chai Cupcakes with Cream Cheese Frosting
Perfectly spiced cupcakes with a creamy icing that are perfect for an afternoon treat!
Ingredients
1/2 tsp. each ground ginger, cinnamon, cardamom and cloves
1/8 tsp. black pepper
1/2 cup butter, softened
1 cup sugar
1 egg
1/2 tsp. vanilla extract
1 1/2 cups all-purpose flour
1 1/2 tsp. baking powder
1/4 tsp. salt
2/3 cup milk
3 tbsp. butter, softened
3 oz. cream cheese, softened
3 cups icing sugar
3-4 tbsp. milk
ground cinnamon to garnish
Instructions
In a small bowl, combine ginger, cinnamon, cardamom, cloves and pepper. Set aside.
In a large bowl, cream 1/2 cup butter and sugar together until fluffy. Beat in egg and vanilla.
In a medium bowl. combine flour, baking powder, salt and 1 1/2 tsp. of spice mixture until combined. Gradually add flour to creamed mixture, alternating with milk and blending well after each addition.
Fill paper-lined muffin cups 2/3 full. Bake at 350 degrees for 25 minutes, until a toothpick inserted in centre comes out clean.
Meanwhile, in large bowl, cream 3 tbsp. butter and cream cheese together. Beat in icing sugar and remaining spice mixture until smooth. Gradually add milk to reach desired consistency.
Pipe frosting over cupcakes and garnish with cinnamon if desired.
Recommended Products
As an Amazon Associate and member of other affiliate programs, I earn from qualifying purchases.
Nutrition Information:
Yield:

12
Serving Size:

12 Servings
Amount Per Serving:
Calories:

370
Total Fat:

14g
Saturated Fat:

9g
Trans Fat:

0g
Unsaturated Fat:

4g
Cholesterol:

53mg
Sodium:

238mg
Carbohydrates:

59g
Fiber:

1g
Sugar:

44g
Protein:

4g