I adore a peaceful and romantic meal on Valentine's Day as much as anyone else, but creating a delectable dinner takes time and like every parent with young children, I don't have much time to spare when it comes to dinner preparations. That's why I love Olivieri pasta and sauces. The products are fresh with a great gourmet flavour and cook up in just minutes so that creating a romantic meal can be done in a flash.
It's said the way to a man's heart is through his stomach, but I'm pretty sure the way to most men's hearts is through bacon. So I decided to create a decadent yet hearty Valentine's Day dinner using sausage-stuffed pasta, bacon, arugula and pesto. This meal is meaty and filling but still fancy enough for a date-night dinner. Best of all, it contains just four ingredients and only takes about twenty minutes to prepare!
Italian Sausage Borsetti with Bacon and Wilted Arugula
A quick and hearty gourmet meal perfect for a romantic Valentine's Day dinner.
Ingredients
1 600 g Container Olivieri® Italian Sausage Borsetti
5 slices Maple Leaf® Bacon, chopped
1/2 cup Fresh Arugula
1 160 g Container Olivieri® Olive Oil and Garlic Pesto
Instructions
Bring large pot of water to a boil. Add Olivieri Italian Sausage Borsetti and boil 3-4 minutes. Drain and set aside.
Meanwhile, sautee chopped bacon in medium saucepan over medium-high heat until crispy.
Drain fat, add arugula to saucepan and sautee over medium heat until arugula is wilted, about one minute.
Add Olive Oil and Garlic Pesto sauce, stir until blended. Add borsetti and toss gently to coat pasta.
Serve immediately.
Nutrition Information:
Yield:

4
Serving Size:

1 grams
Amount Per Serving:
Unsaturated Fat:

0g

The Olive Oil and Garlic Pesto was the perfect accompaniment to the sausage and bacon in this dish and the arugula added beautiful colour and flavour. I had considered garnishing the meal with a little shaved Parmesan cheese, but after my first bite, I knew that this dish didn't need anything else. It was absolutely bursting with flavour! With a fresh green salad to start and a crisp white wine, it's the perfect easy romantic meal for your special Valentine!
If your loved ones prefer cheese to meat, try making this dish with the new Olivieri Hearts Cheese Ravioli. Available only for a limited time, they'll add an extra-special romantic touch to your Valentine's Day dinner. And make sure to like the Olivieri Facebook page to get more fabulous ideas for Valentine's Day recipes!
Olivieri also wants to help you enjoy the ultimate Valentine's Day with a rapturously romantic contest you won't want to miss! Just visit www.winwitholivieri.com and enter to win a luxurious spa retreat for two! What better way to celebrate this special day than by enjoying a little relaxation and indulgence together as a couple?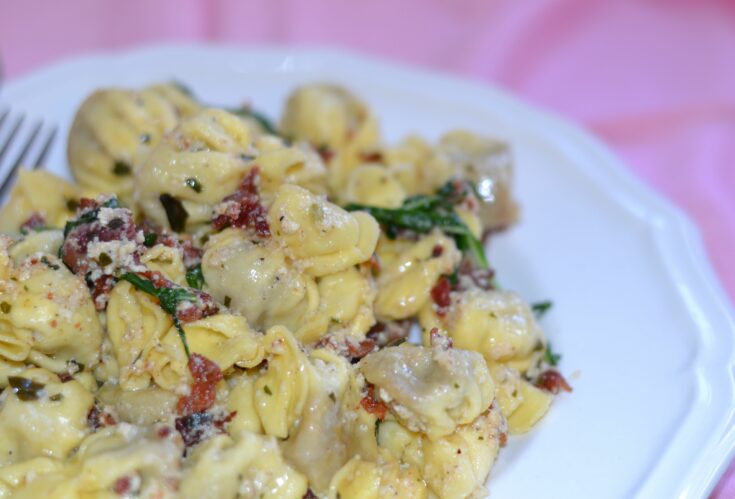 I absolutely love how this dish turned out, both because it had such a decadent flavour and because it was so easy to prepare. This was my first time using the Olivieri Italian Sausage Borsetti, but it certainly won't be the last! Give it a try this Valentine's Day or create your own special recipe with Olivieri pasta and sauces. You'll love how quick and easy a romantic gourmet dinner can be!