I don't know what it is about the month of February, but for some reason I find it to be a month of high energy for me. Maybe it's because I'm so tired of being indoors all winter that I just have to start moving any way I can.
Or maybe it's the early energizing effect of spring fever creeping up on me. But whatever it is, it leaves me wanting to make positive changes, especially in my diet and exercise regime.
And I have a feeling I'm not alone, since February is actually National Heart Health Month! Other people are experiencing that same motivation and desire to change that I have, and what better goal could there be than improving heart health!
Heart disease is actually the number one cause of death in Canada, so being proactive about heart health is always a good move.
But on the other hand, it's still winter. Especially here in Saskatchewan. So while part of me is craving fresh fruit, light meals and exercise, another part is reacting to the cold with a desire for hearty, comforting fare to help fight back winter's chill.
That's why I absolutely love the Healthy Living recipes on the Kraft Canada website.
There are plenty of fresh new meal ideas and light desserts offered, but my personal favourite section is Favourite Recipes Made Over. The only thing better than comfort food is comfort food reinvented for good health and when I saw the delicious-looking Updated Shepherd's Pie, I knew I wanted to add a few tweaks to create my own version of the healthy recipe.
My boys are big fans of Mexican food, so I decided to spice up the recipe a bit with salsa. I used my homemade Salsa Verde for this, but store-bought salsa would work just as well and it adds a great bit of spice to the dish without adding any unhealthy fat or extra calories.
I also used fat-free cottage cheese for the mashed potatoes and then whipped them together with the grated old cheddar using my hand blender. The result was creamy, flavourful potatoes that boasted extra calcium and protein!
Enjoying filling, hearty food like this Shepherd's Pie while still knowing I'm making smart choices for my health and my heart gives me just that feeling of satisfaction and accomplishment that I seem to crave every February.
Looking for other healthy, veggie-packed main dishes? Make sure to try this easy Southwest Pork Chili recipe!
Check out the Kraft Canada website for other healthy recipes that take classic comfort food to the lighter side and do something good for yourself to celebrate National Heart Health Month!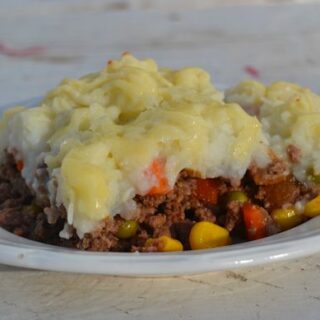 Kat's Updated Shepherd's Pie
A lighter and healthier version of traditional Shepherd's Pie with just the right spicy kick!
Ingredients
1-1/4 lb. 565 g red potatoes (about 4), cut into chunks
3 large cloves garlic
1 cup fat-free cottage cheese
1/2 cup shredded Cracker Barrel Old White Cheddar Cheese, divided
1 lb. 450 g extra-lean ground beef
2 Tbsp. flour
3 cups frozen mixed vegetables, carrots, corn, green beans, peas , thawed
3/4 cup 25%-less-sodium beef broth
2 Tbsp. Kraft BBQ Sauce
1/2 cup salsa, homemade or storebought
Instructions
Cook potatoes and garlic in boiling water in large saucepan about 20 min. or until potatoes are tender. Drain; return to saucepan. Add cottage cheese. Whip with hand beaters until potatoes are smooth and creamy. Stir in 1/4 cup cheese.
Heat oven to 375°F. Brown meat in large nonstick skillet. Stir in flour; cook and stir 1 min. Add mixed vegetables, broth, BBQ sauce and salsa; cook 5 min., stirring occasionally. Spoon into 8-inch square baking dish; cover with potatoes.
Bake 20 min. or until heated through. Top with remaining cheese; bake 2 min. or until melted.
Nutrition Information:
Yield:

6
Serving Size:

1 grams
Amount Per Serving:
Unsaturated Fat:

0g