I've been on a mission to live a little better this year, from eating healthier to getting more exercise. And one of the simplest and most effective ways I've found to improve my health is to get enough liquid every day. I'm pretty good about staying properly hydrated, but there are times when I just don't want another glass of water. Water enriched with vitamins has become popular for just this reason, since it combines hydration with great flavour and added health benefits. But after reading the labels, I've found that some brands have questionable nutritional value and sometimes even artificial sweeteners, something I avoid with a passion.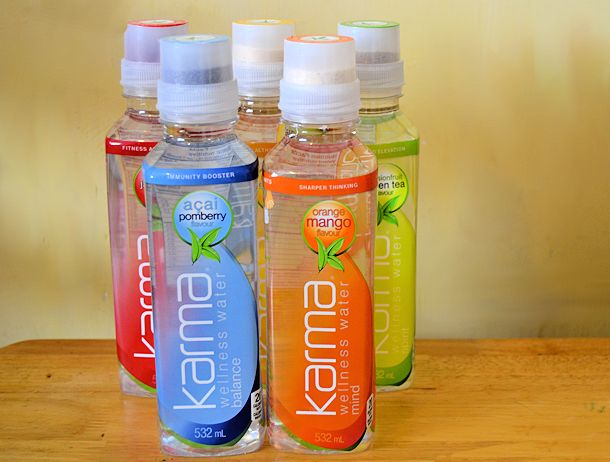 Karma Wellness Water sounded like just the product I needed. Sweetened naturally with stevia and a touch of cane sugar, it contained just 20 calories per bottle with five tempting flavours to choose from. I loved the low calories, fruit flavours and natural ingredients that Karma Wellness Water featured. But it wasn't until I received a few bottles to review that I saw how different this new beverage really is.
The fact is that many vitamins begin to break down when exposed to air, water and light, which means that many enriched beverages really don't provide maximum benefits as the vitamins lose their potency in the liquid over time. Karma Wellness Water solves that problem with an innovative cap design called the KarmaCap that keeps the vitamins out of the water and sealed with UV protection until you're ready to drink. Just peel the top off the bottle, push down on the plastic tab inside the lid and shake the bottle until the vitamins are dissolved. It's quick, easy and ensures that the beverage provides the maximum benefits!
I was out of town for a few days and when I got back, I was behind on work and very tired. So I decided to try the Karma Mind in the Orange and Mango flavour, specifically designed for mental alertness. Loaded with Vitamins B, C and D, it was the perfect choice to perk myself up and tackle my inbox. Adding the vitamins to the water and shaking up the drink was lots of fun, and I loved the refreshing tropical flavour. But best of all, about thirty minutes later I really did perk up and manage to get some work done. The extra dose of vitamins and antioxidants was apparently just what my body had needed.
Karma Wellness Water comes in four other refreshing varieties for different nutritional needs. Karma Spirit in Passionfruit Green Tea flavour is designed to elevate mood. Karma Body in Raspberry Guava Jackfruit flavour is the perfect fitness accelerator. Karma Vitality in Pineapple Coconut flavour provides healthy hydration. And Karma Balance in Acai Pomberry flavour boosts immunity. No matter what health or fitness goal you have for 2014, there's a Karma Wellness Water for you!
The patented, UV-blocking KarmaCap of Karma Wellness Water is what sets it apart from the competition and since the beverage also has natural ingredients I feel good about, it's a drink I can enjoy any time! The Karma Vitality with Pineapple and Coconut flavour is my personal favourite, but since every bottle has at 110% or more of the recommended daily intake of seven essential vitamins, I really can't go wrong no matter which variety I choose. Check out this innovative new beverage and see for yourself how Karma can help you kick-start your health and fitness goals for the new year!