Keeping nails looking great is a whole lot easier with a great top coat, and this year Nicole by OPI has three fabulous new top coats and a special cuticle oil for 2014 to help you keep your nails looking their best! I recently received the four new products to try and I couldn't wait to put them to the test.
The new line of top coats includes a Matte Top Coat, a Quick Dry Top Coat and a 3-1 Base, Top Coat & Strengthener. For creating a nail look that's both subtle and dramatic, the Nicole by OPI Matte Top Coat is a must. I love painting my nails in a solid shade and then sectioning off random strips with tape before coating the nail with the Matte Top Coat. The resulting blend of shiny and matte on my nails is simple and always looks great.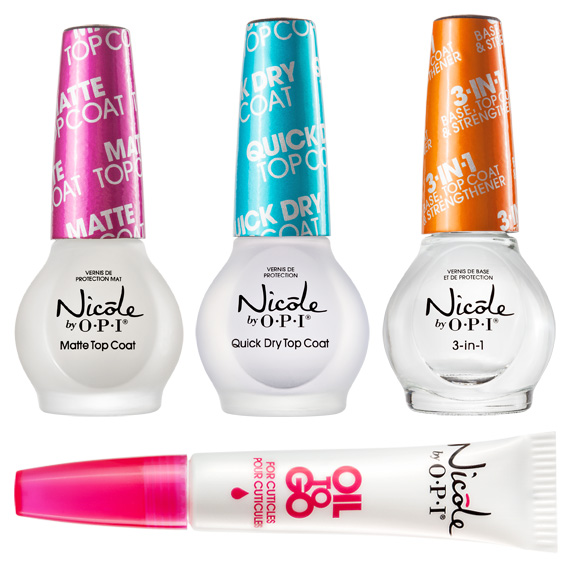 The 3-1 Base, Top Coat & Strengthener actually became a favourite for me for everyday use simply because my nails tend to split and break fairly easily. I like applying a quick coat on the days when I'm not wearing polish just to keep my nails strong and healthy. But used as a top coat or base, it protects polish and provides great shine too.
But the Nicole by OPI Quick Dry Top Coat was easily my favourite product. As a busy parent, it's pretty rare that I have ten minutes of peace to let my nails dry properly. This fabulous top coat glides on smoothly and takes only about a minute to dry. With a convenience factor like that, it's my must-have product for 2014!
Nicole by OPI has also released Oil to Go for cuticles. This handy little tube is portable and comes with a brush applicator that lets me instantly moisturize and treat dry cuticles even when I'm on the go. It has a nice, slightly fruity scent and provides serious conditioning for damaged cuticles right when it's needed most.
These four new products from Nicole by OPI are such handy ones to have in my beauty arsenal and the different top coats have already come in so handy for adding extra style to my nail looks and helping to protect my polish. Grab one or two to help ensure your nails always look their best!