I recently had the opportunity to visit the Canadian International Auto Show held at the Metro Toronto Convention Center. The Auto Show has been a tradition of mine for years as I never miss the chance to spend a day (or two!) eyeing all the hot new cars manufacturers have lined up for us to ogle. With nameplates like Ferrari, Maserati, McLaren, and Porsche all on display, it's easy to start thinking about buying a few more lottery tickets or selling a body part to make a down payment.
But as much fun and excitement the exotics offer, a good portion of the show's 600,000 square-foot floor is dedicated to everyday cars and trucks purchased by Canadians daily. With over 1,000 vehicles on display, it's the best place for visitors to comparison shop without any pressure or hassles. Having checked out various makes and models, here are a few of my favourite picks for Canadians:
Mazda3
At the show Mazda won 2014 Canadian Car of the Year for their mid-sized Mazda6 sedan. While the floor was buzzing with excitement over the win, I found myself just as excited by its smaller brother the Mazda3. With gorgeous flowing lines, the bold grill and swept-back headlight assembly completes a package that says, "Hey! Let's go someplace fun today!"
Inside I found controls to be within easy reach, while its BMW-esque dashboard (particularly the center display unit) gives a sense of premium styling and features. Fuel economy is also a key feature with Mazda's Skyactiv suite of technologies delivering impressive results while maintaining Mazda's peppy drive characteristic. With a choice of sedan or hatchback, there's plenty of options and trim levels to appeal to a wide array of buyers (personally I love the GT hatchback with the larger 2.5L engine). I wasn't too thrilled with the overly sized center tachometer, but that's a minor detail I'm willing to overlook given how terrific the rest of the car is.
Honda Fit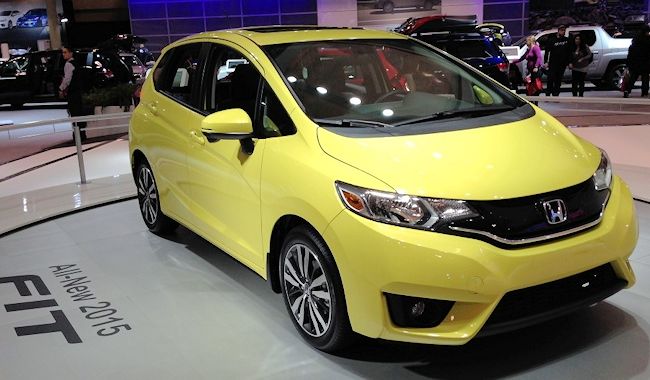 The Honda Fit has been well regarded since its introduction in 2006, and for 2015 Honda improved upon the sub-compact formula. By pushing the wheels out further, more legroom has been added compared to the previous model. I found the front seats to be quite comfortable though for a larger guy with broad shoulders, the back was a little bit of a squeeze.
Efficient packaging really dictates how well a sub-compact will be received by the market, and the Fit is no exception. The car's second row Magic Seat can be folded in four different ways giving you a lot of flexibility when it comes to transporting your cargo. For a small, affordable car, it doesn't miss out on exciting features. The Accord's LaneWatch feature has found its way onto the Fit, which will make changing lanes and checking blind spots that much safer. Heated front seats, push-button start and a sunroof are some of the great amenities that will be available for shoppers. And the Fit is a 2014 Canadian Black Book Best Retained Value award winner for the last three years, a testament to its reliability and quality build.
Hyundai Genesis
The luxury car market has traditionally been dominated by the Germans and Japanese with their established nameplates. That stronghold is about to be challenged by an unlikely competitor – Korea's Hyundai Motor Company. Known for their affordable, feature-rich models, CIAS was the Canadian unveiling for the newly redesigned Hyundai Genesis sedan. The tone is immediately set by the large grille tastefully surrounded in chrome. The lines pull back and flow across the body to give a harmonious sculpted feel to the car that's sure to stand out on the road.
The latest technologies can be found in this car, including a crisp 9.2" navigation screen, a CO2 sensor that will detect when fresh air is needed inside the cabin, a smart trunk that will auto open, a heads-up display, a modern 8 speed automatic, and an available 420 horsepower V8 engine. However, a long feature list is not enough for a luxury car. It needs to have the performance to back it up, and the Genesis delivers. A chassis developed with help from the famed handling wizards at Lotus and testing performed at the demanding Nürburgring in Germany ensures that the Genesis will redefine luxury.
Dodge Grand Caravan Minivan
In recent years, minivans have become "uncool" as consumers migrated to SUVs of all sizes and shapes. In response, some manufacturers have dropped the once popular segment from their product mix altogether. Dodge, however, makes a compelling case as to why minivans are still relevant as it celebrates its 30th anniversary of production. Quite simply, nothing else offers the sheer cargo space and ease of entry/egress that a minivan can offer. At a starting price of $19,895, The 30th Anniversary Dodge Grand Caravan comes well-equipped with the expected amenities including the often imitated Stow 'n Go rear seats.
For me the clincher is the inclusion of the award winning Pentastar V6 engine, perfect for carrying a loaded van or for the times you need the added power in an emergency over take situation. I also came away impressed with the interior fit and finish and trim detailing. For those wanting more, its stable mate, the Chrysler Town & Country (pictured above) brings impressive luxury and class to the table.
From fuel efficiency to affordable luxury to functionality for families, the car manufacturers at CIAS had a lot to show off to its consumers. Which vehicle would you most like to see in your driveway?