As a mother, there is absolutely nothing more frustrating to me than buying clothes for my boys only to have the clothes wear out while they still fit. Kids grow so fast that buying plenty of clothing is expected, but when I replace jeans and t-shirts, I want it to be because they're too small, not because the fabric has ripped or worn through!
That's why I was thrilled about taking part in the Walmart Canada George Kids challenge. With just $50 to spend, I was given the task of buying a spring outfit for each of my boys from the George Kids line. I was excited about the mission because George Kids offers amazing prices on kid's clothes. But the best thing about George Kids clothing is its Quality Guarantee. If the clothing wears out before your kids outgrow it, Walmart will replace it free of charge!
The challenge couldn't have come at a better time since Zackary had just worn holes through the knees of his two best pairs of jeans. Unfortunately, they weren't George Kids jeans so I had no guarantee on their longevity. We headed into the store to see what fashions were available. The $7 straight leg jeans caught my eye at once and I grabbed a pair for each of the boys.
Since Zackary was replacing ripped clothing, I also got him a pair of boot cut jeans for $10. Then he chose a trendy George Kids t-shirt and Benjamin decided on an adorable two-piece t-shirt and button-up combo. One outfit for each of my boys. One extra pair of jeans for Zackary. And a total price of just $42 including tax! Best of all, I know these clothes will last as long as they fit my boys thanks to the George Kids Quality Guarantee!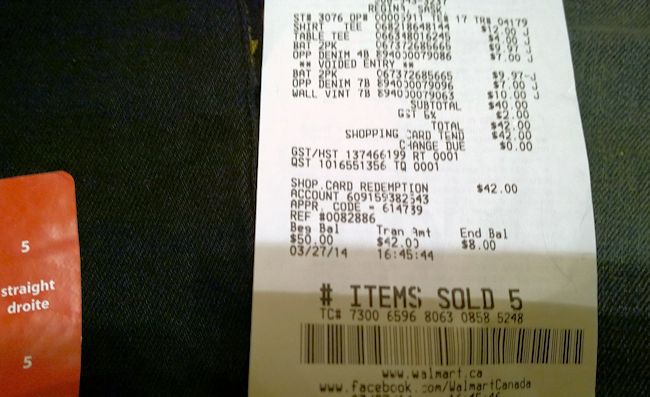 If your kids are hard on their clothing, it just makes sense to take advantage of the low prices and the long-wear guarantee at Walmart. Keep an eye out for the George Kids Quality Guarantee tag on clothing and you'll know that no matter how rough your kids are, they'll be able to keep wearing their favourite outfits until the clothes just don't fit anymore. Now that's value that any parent can appreciate!