If you love solitaire, you'll love the latest release from Big Fish Games available today for iOS and Android devices! Fairway Solitaire Blast, the sister game to the hugely popular Fairway Solitaire, takes the ever-popular game of solitaire to a new level with fun animation, cool power-ups, bright colours and a gameplay style that's appropriate for all ages!
The goal is to clear the cards off the board. The twist is that you get to use an array of power-ups to help you beat challenges that are designed around hand-crafted card layouts. All played on golf courses that include hazards like crab grass and sand traps. Altogether, you've got a unique solitaire puzzle game that earned the franchise IGN's Fan Favorite Mobile App and Mobile Game of the Year nominations in 2013. Devise your strategy then attack the course!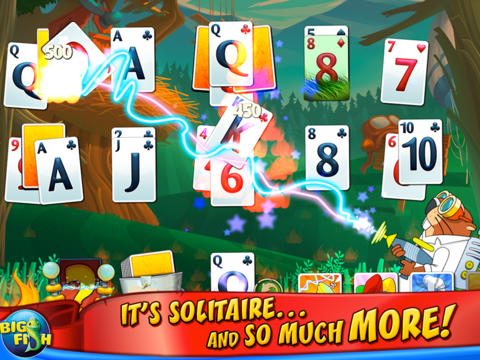 I downloaded the game to test out on my iPad and it didn't take long before I was hooked. Each level of Fairway Solitaire Blast consists of three rounds, and various power-ups are randomly given to help you clear the board. Cards are dealt out and can then be matched with a card that's either one lower or one higher. In other words, I can play a 5 against either a 4 or a 6 on the board.
If there are no matches, then it's time to draw a card. But there are a limited number of draws to make and they have to last for all three rounds, so strategy is very important! Like a lot of mobile games, you're awarded stars for finishing with more points, so matching cards in a streak without drawing will earn you more points!
A note to parents: this game does offer an in-game purchase option for more cards and power-ups. So be sure to change your security settings on your iPad or mobile device to ensure your children don't make purchases without your approval! And for older users, the game offers the option of logging into Facebook so that you can connect with your friends and help each other through the levels!
The animation and cute characters in this game are very appealing and make it a fun choice for children. But this easy-to-play game is also very addictive and sure to be a hit with adults as well. The simple gameplay is combined with levels that get more challenging as the game progresses to make Fairway Solitaire Blast one of those rare games that really is fun for virtually everyone. Get it today for your Android or iOS device and get ready for a game that combines solitaire, golf and interaction with friends for the ultimate fun-filled gameplay!