It's been quite a long time since I've been to a Denny's restaurant, but I remember loving the chain's delicious breakfasts and tempting desserts when I was a child. Denny's has changed a lot since I was a child and the menu now also offers a tempting array of healthier "Fit Fare" options and a fun, interactive Denny's Canada app that lets customers earn points towards free rewards at every visit!
I downloaded the app on my Android phone and took the boys out for a late breakfast/early lunch. The Kid's Menu had plenty of variety and I was excited to see that kids eat free with an adult every Tuesday. Needless to say, I think we'll be back again! The Fit Slam tempted me initially since it included two of my favourite vegetables, spinach and grape tomatoes, scrambled with egg whites for a healthy and delicious breakfast. But I was craving bacon and delicious cheese-covered eggs, so I decided to get the Lumberjack Slam, complete with shredded hash browns, toast, bacon, sausage and eggs.
My boys had a tough time deciding between breakfast and lunch, but eventually Zackary chose Chocolate Chip Pancakes and Benjamin decided on a Junior Cheeseburger. I loved how many different sides were available for kids. From fresh apple slices to veggies with dip to cooked corn to traditional fries, there was plenty of choice and lots of healthy, yet still kid-friendly options. Benjamin is a huge fan of corn, so he had no trouble deciding what his side would be!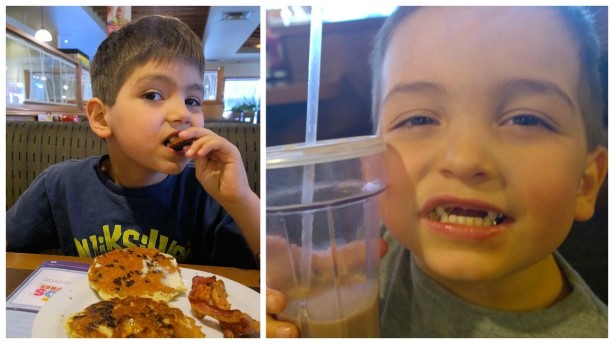 One of the things I really appreciated about eating at Denny's was the comfortable, unrushed atmosphere. Zackary and Benjamin took their time with their food, I sipped my coffee and when the meal was over, the boys each ordered a "Build Your Own" ice cream sundae. They had so much fun picking out which ice cream, sauce and toppings they wanted!
After we'd finished and paid the bill, it was time to enter the code from the receipt into the Denny's app! With each visit, I earn loyalty stamps and Denny's Points that I can then use for delicious rewards including discounts off my next meal or free tasty Denny's favourites such as the Original Grand Slam or the Fit Fare Omelette. With one point given for each dollar spent, the points can add up quickly!
It was so much fun rediscovering Denny's Canada and now that I have, I'm sure the boys and I will be back more often. I love the new healthier options that are available for breakfast and the great variety that's available for kids. And with tons of fun promotions including the new Denny's app, free breakfast on birthdays and Kids Eat Free day, there's plenty of reasons to make Denny's a place we visit regularly!